How To Help The Bastille Day Attack Victims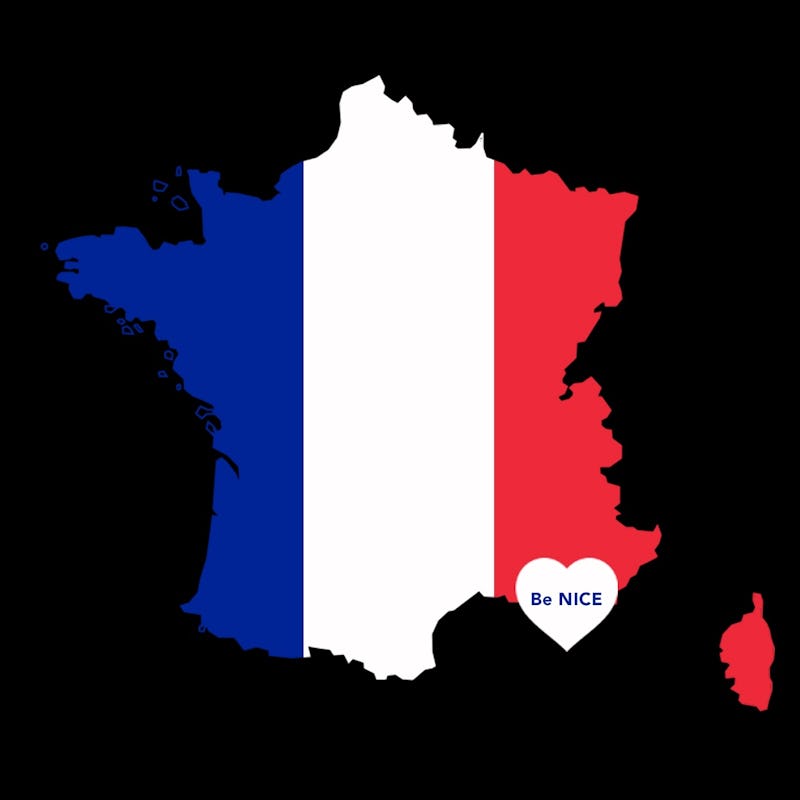 Update: According to the latest reports, at least 84 people were killed in the attack in Nice, France, and over 180 are injured. Of the wounded, François Hollande, the president of France, said on Friday there are 50 victims "in between life and death." After an emergency meeting of French security and defense officials, Prime Minister Manuel Valls said: "Terrorism is a threat that weighs heavily upon France and will continue to weigh for a long time. We are facing a war that terrorism has brought to us." Among the victims, who were celebrating the French holiday of Bastille Day, were a number of tourists, including two Americans, Sean Copelend and his 11-year-old son, Brodie. To help victims of the Bastille Day attack, you can contribute to verified fundraisers or donate blood.
Earlier: On Bastille Day, the day the French celebrate their independence, horrific events unfolded in Nice, in what will be known as the bloodiest July in recent memory. While revelers gathered to celebrate the taking of the Bastille, a truck barreled into a crowd at the Promenade des Anglais. While reports of what happened after and the number of people dead vary, some reports claim that the driver of the truck then opened fire, and that as many as 70 people are dead following the attack. As the rest of the world watches on in horror while the French deal with this terrifying tragedy, some are already working on how to help Bastille Day attack victims.
While reporters and first responders in Nice and France at large deal with grief that makes their jobs all the more difficult, one of the most important things to remember for those of us watching from afar is that as news unfolds, members of the media on the ground are likely to get some information wrong. As we learned last week in Dallas, reporters are far from immune to the understandable stress and fear that comes with being close to a fresh tragedy, and the same, unfortunately, is likely true in Nice. One of the best ways to help and honor the victims of the attacks is to view any breaking reports with a critical and hopefully objective eye, as with time, context will be provided so that the international community can provide the best response possible.
While more information comes to light, there are some ways you can help the victims of the Bastille Day attack in Nice.
Donate Money To Verified Fundraisers
Donating money to reputable, verified fundraisers is a good way to directly help victims. Unfortunately, some people target the sympathy of others by creating fundraising scams after tragedies like the Orlando Pulse shootings. Before donating your money, do some research about the people or organizations fundraising, and do extra research when it comes to new charities that are created right after tragedy strikes. There's verified fundraisers already going from CrowdRise for the Nice victims and on GoFundMe for a family that lost a father and son.
Do Your Research
With this summer's terrible spate of violence, the tendency to name suspects or groups responsible before reasonable evidence is mounted against them has become all-too-common. From the innocent man whose photograph was circulated by police and reporters in Dallas to chorus of cries about "radical Islamism" that follows each new mass killing, it's irresponsible and dangerous to assume anything of the suspects involved in these attacks before sufficient evidence has been presented. It also leads to a rise in Islamophobic retaliation, even when proclaimed Muslim organizations have nothing to do with the events. It helps no one to jump to conclusions and give in to the fearmongering that media and politicians thrive on with these sorts of attacks.
Donate Blood
Last year, after the attacks in Paris, the American Red Cross issued a statement of solidarity with the French Red Cross, and said they would offer their services if needed. While no such statement has yet been made for the Nice attack, donations will likely be taken soon for those who wish to donate their blood to victims of the Bastille Day attack.
Image: Bry Crasch/Bustle (1)