Is Drake In The New 'Degrassi' Reunion Trailer?!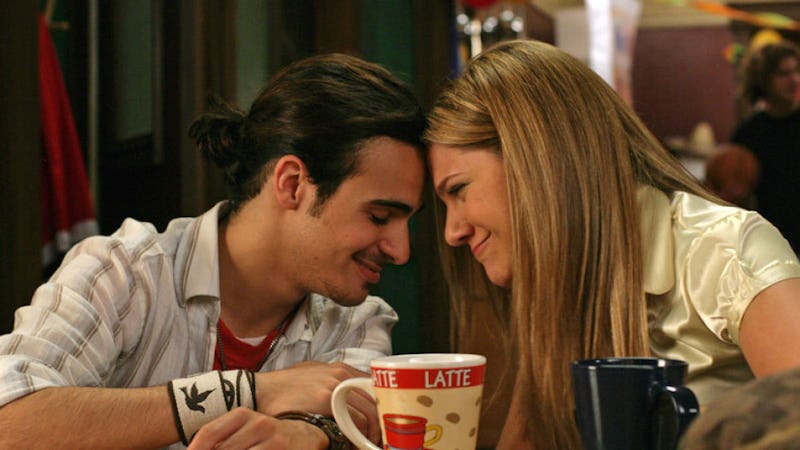 It's all happening for OG Degrassi fans. Yes, the second season of Degrassi: Next Class will be released on Netflix July 22, but that's not the only exciting thing that's underway. The premiere episode marks the show's Episode 500 for the series, which is a huge milestone for any show, let alone a soapy Canadian show aimed at teens doing teen things with their teen-specific issues. Naturally, Degrassi High is celebrating this accomplishment (whatever it takes right?). A whole slew of Degrassi: The Next Generation students will be in town for their reunion during the episode, and we get to see them. The Degrassi: The Next Generation reunion trailer depicts all your old favorites coming together and single handedly sending your pre-teen/teen feelings into overdrive. Only bummer is, it seems one important and notable character, Jimmy Brooks (played by Aubrey Graham, who you might know better by his current moniker Drake), won't be in attendance.
I know, it's not exactly what you want to hear when you think "Degrassi reunion," but to lessen your pain, here's a sampling of who will be there: Marco (Adam Ruggiero), Paige (Lauren Collins), Emma (Miriam McDonald), Spinner (Shane Kippel), and Craig (Jake Epstein) will all be making the trip back to Degrassi High. Sure, it's not Drake, but it's something. Watch the alums in the trailer, originally released on Degrassi's Facebook, below.
As a passionate and well-versed Degrassi: The Next Generation fan (humble brag), it sends a shiver down my spine to see all these kids back together. Upon seeing this trailer, I immediately started to think about everything they went through together — all the good times, all the bad. In a way, it feels like it could be my own high school reunion. You know, plus Canada but still minus Drake. (Wait! Drake! Why won't he be there again? It's like he's busy being the musical voice of a generation or something. So weird.)
Anyway, whether or not the episode will dive too deep into what the cast of characters has been up to since graduating — or since the 2009 Degrassi Goes Hollywood film, can't forget about that! — we can't say for sure until it airs. Since there's only 10 episodes in a season of Next Class, they probably won't devote too much time to the Next Gen's characters in the premiere episode. But, just having them there — and together, like this — will be all we need to make it through. I know we can make it through. (Even without you Jimmy. But like also baby come back you can blame it all on me etc. etc.)
Images: DHX Media; Giphy