The KathleenLights x Makeup Geek Collab Will Shine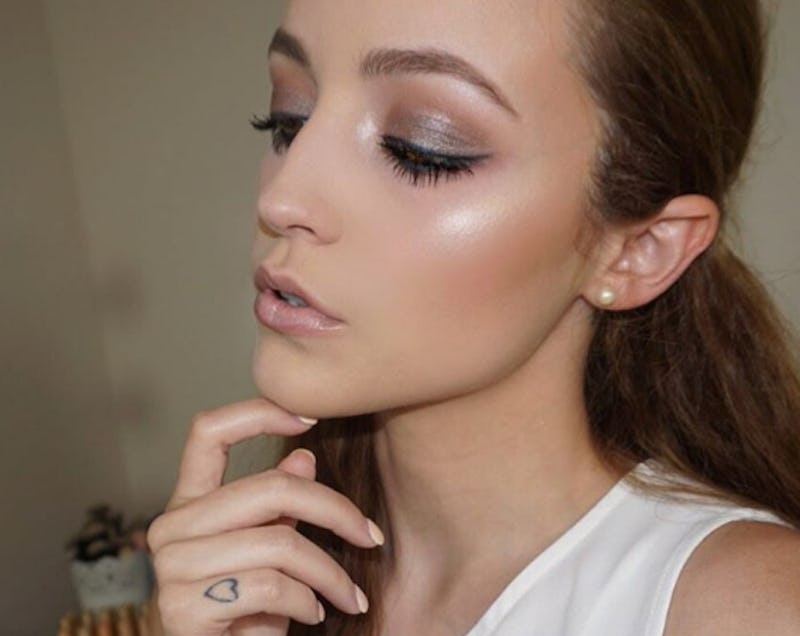 After teasing her fans with hints of a mysterious collaboration, the news is finally out. Kathleen Fuentes AKA KathleenLights is teaming up with Makeup Geek to create what's sure to be a fabulous product. What's in the KathleenLights x Makeup Geek collab, you ask? The product will be... drumroll please... a highlighter palette! Get ready to get your glow on, people.
Just days after her ColourPop products hit the virtual shelves, Fuentes is back at it again. She recently tweeted that she was on her way to a photoshoot and then hinted that it would be for a new product collab. The same day she posted sneak peeks of the shoot on her social media and it was clear that she was working with Makeup Geek on a highlight palette. This is big news, people!
This is not the first time Fuentes has teamed up with a top makeup brand either. The YouTube beauty vlogger has put out tons of different lip and eyeshadow colors with other brands, but a cheek shine palette is a first for her. She's previously worked with ColourPop and OFRA Cosmetics to make fabulous lip and eyeshadow products, so there's no doubt in my mind that this will be great as well.
Just look at that shine! Not only is this the first time that Fuentes has worked on creating a highlight, this will be the first full cheek shine palette for the company as well. From the looks of the behind-the-scenes pictures, it looks like they're starting with a bang too. Just look at the size of the palette.
There could be up to ten shades in this palette! Of course, nothing is for sure though. There's no sneak peek of the inside or even clues about a launch date yet. Fuentes said on her Twitter that she will be releasing all the information next month, so it looks like you should plan for a fall launch.
While you're waiting for the Makeup Geek news, you can stock up on her other collabs. The vlogger has plenty of them to shop too. I don't know about you, but I'm pretty excited to see what the vlogger and makeup company came up with!
Image: KathleenLights/Instagram (1)