KathleenLights Just Teased Another New Collab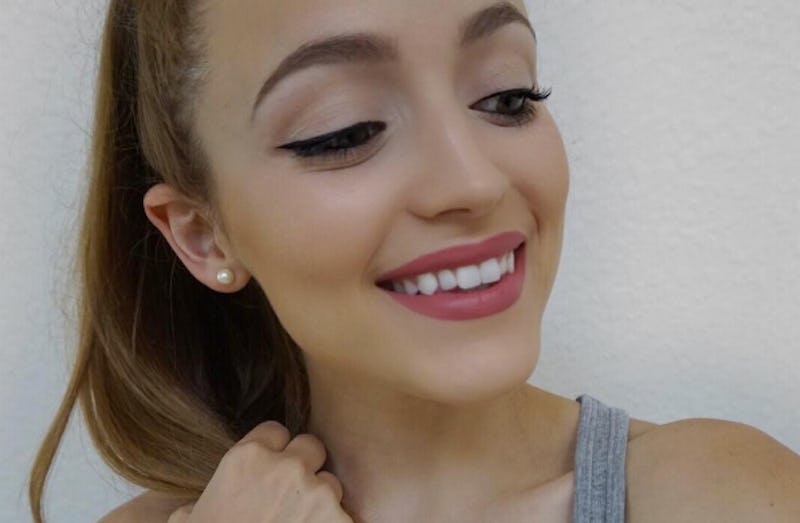 If you thought KathleenLights' ColourPop collection was good, then it's time to get excited. According to her mysterious Twitter announcement, YouTuber Kathleen Fuentes is collaborating with another brand. There aren't many clues about the new launch, but her past collabs are a sign that something great is coming.
There's nothing I love more than when top beauty vloggers work with brands. Not only have they tried and reviewed tons of products, but they know exactly what makes makeup great. That's exactly what Fuentes brings with her products. She's already worked with two different companies to create some fabulous products, so there's no doubt in my mind that this secret partnership will be just as great.
The Twitter news comes just days after her latest collaboration with ColourPop. Fuentes worked with the brand to create three new Ultra Satin Lip shades and a new eyeliner, which got a terrific response from fans. That's also on top of her two eyeshadow collections and four other lip shades that she has with the company. So basically the vlogger knows a thing or two about how to make a great product.
Fuentes hasn't given any clues to who the collab is with yet. On Twitter, she did mention she had a photo shoot though, so fingers crossed that she'll put out some behind-the-scenes photos soon.
If you haven't gotten your hands on any of Fuentes products yet, then what are you waiting for? She created some seriously awesome bold, yet wearable lip colors and curated some stunning eyeshadows. Here's a look at her past collabs, so you can speculate on what's to come.
1. Lumière & Lumière 2
Lumière, $5 & Lumière 2, $6. colourpop.com
Her lip color was such a big hit that the company asked her to create the same color in a different formula.
2. Where The Light Is
Where The Light Is, $20, colourpop.com
She even branched into shadows with this gorgeous collection.
3. Miami Fever
Miami Fever, $19.90, ofracosmetics.com
ColourPop isn't the only company she's worked with either.
4. Mr. Bing
Mr. Bing, $6, colourpop.com
Named after her favorite Friends character, she put a little personality into her first ever eyeliner.
5. Where The Night Is
Where The Night Is, $20, colourpop.com
Fuentes got a little bolder with her second eyeshadow collection.
6. Havana Nights
Havanna Nights, $19.90, ofracosmetics.com
Ofra loved her so much that they let her create a second lipcolor as well.
7. Benefit Blush Palette
It wasn't exactly a collab, but she was featured on the Benefit Cheekathon stand. Maybe this could be the new collab?
I can't wait to see what she has for her fans next!
Image: kathleenlights/Instagram (1)