19 Of The Best YA Books Of August 2016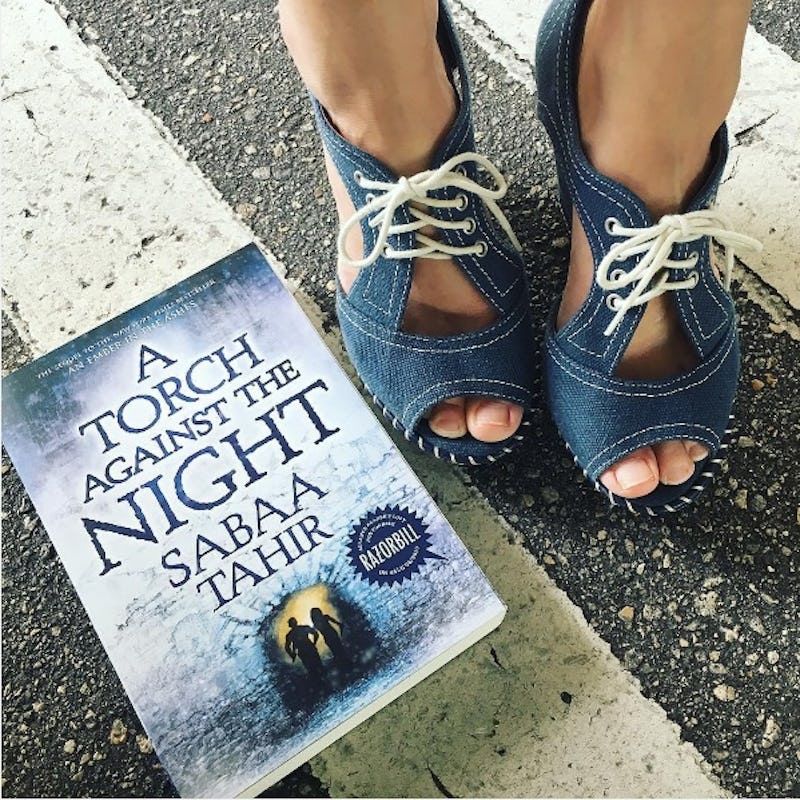 Pack your beach bag and light your barbecue grill because we have actually made it to the final month of summer. Summer may be coming to a close, but we still have plenty of summer novels to keep us occupied. These 19 best YA books of August 2016 are really just the tip of the proverbial iceberg. (Actually, could we get that iceberg? It's sweltering here.)
Loads of fan-favorite YA series are getting new installments this month (*cough* The Remnant Chronicles, *cough* An Ember in the Ashes), but while you're already at your local bookstore, you are going to want to pick up some other books that are flying a bit more under the radar, like the latest installment in the Jackaby series or Spontaneous, a contemporary with an unbelievable (and kind of gruesome) premise.
Established and some keep-your-eye-on debut authors are going to horrify you with tales of terror, send you into sob-fests with poignant tales, make you swoon with romance, and bend your brain around in all different directions with science and psychological fiction. I hope you are a speed reading expert because you're going to need that skill to keep up this month. Here are 19 YA books you need to be reading in August:
Ashlee Cowles brings her own life experience as an "army brat" to this beautiful, hopeful story about teenager a, Gabriela Santiago, whose older brother is wounded in action in Afghanistan. When Gabi learns her brother Lucas is in a coma, she knows he has to fulfill her promise to make a pilgrimage across the Camino de Santiago through Spain. Her unexpected traveling companion is Seth, Lucas's best friend and fellow soldier, whom Gabi has spent her life despising. Beneath Wandering Stars reflects on identity, family, love, and belief systems as the characters do as well.
2. The Telling by Alexandra Sirowy (Aug. 2; Simon & Schuster Books for Young Readers)
When Lana's stepbrother and best friend Ben went missing, presumed dead, everything changed. The once reserved teenager is now taking risks, and she starts hanging out with the popular clique. More worryingly, she is losing track of what is real and what is fantasy. When the crew discovers the remains of Maggie, Ben's girlfriend, they become suspects and investigators into the crime. You'll get lost in this story, where you quickly learn you can't trust anyone, even our main character Lana.
3. The Assassin Game by Kirsty McKay (Aug. 2; Sourcebooks Fire)
At this elite, isolated boarding school, the game of Killer is king. You know you're special if you're chosen to participate in this tradition, a game in which players try to "kill" one another using, essentially, pranks. The last one standing is the winner. So when Cate's childhood BFF Vaughn unexpectedly shows up at the school and joins the game, things start to go awry and the childish pranks become something much more deadly. The story is truly page-turning, and you'll have so much fun reading through the twists and turns.
4. The Beauty of Darkness by Mary E. Pearson (Aug. 2; Henry Holt and Co.)
Mary E. Pearson needs no introduction to YA fantasy fans. She's back this month with her highly anticipated third installment of The Remnant Chronicles, which began in 2014 with The Kiss of Deception. No spoilers, because if you haven't caught up yet, now is your chance! This myth-based, fairy-tale-esque, completely romantic series centers on a princess named Lia who fleed her kingdom on her wedding day and has to adjust to a new world.
5. The Smaller Evil by Stephanie Kuehn (Aug. 2; Dutton Books for Young Readers)
Teenage Arman is at a self-help retreat in Big Sur to help with his extreme anxiety and self-loathing. His cult-like retreat leader Beau brings Arman into the fold, joining in bizarre rituals, until the day Beau dies. Now, Arman, who never trusted himself at all, is the only witness to Beau's end, and he can't decide if it was murder or suicide. Now, Beau has to learn to believe in his own mind, to trust himself, as he struggles to figure out what happened.
6. Whatever.: or how junior year became totally f$@ked by S.J. Goslee (Aug. 2; Roaring Brook Press)
Bisexual characters are often invisible in pop culture, but S.J. Goslee puts one front and center in her debut novel Whatever. And this isn't one of those "issue novels" about coming out. Whatever is laugh-out-loud funny, fresh, and sweet. Mike's junior year isn't going so great (as you can deduce from the subtitle). His girlfriend Lisa dumps him, letting him know that, really, they weren't actually dating anyway. Plus, he found out that when he was drunk he made out with a guy. Then we get to follow along as Mike comes to understand his changing sexual identity.
7. Poisoned Blade by Kate Elliott (Aug 2.; Little, Brown Books for Young Readers)
Kate Elliott adds to her fantastical Court of Fives series with Poisoned Blade, and fans won't be disappointed. Now, Commoner Jes is a Challenger in the Fives, the high-stakes athletic competition, and she's willing to do whatever she has to to win the prize money and protect her family. She plans to tour across the countryside and face other competitors, but when her group is attacked, she is thrust into the center of her love Lord Kalliarkos's war.
You're going to want this one in your TBR, slasher movie fans. It has everything you could ask for — a remote wooded cabin setting, BFFs' weekend getaway, and a game that goes awry — and something you might not from a traditional slasher story: LGBTQ characters. When one of the friends reveals a disturbing secret during a game of Three Truths and a Lie, the rest of the friends are unsettled. And let's just say things only get worse from there.
9. Enter Title Here by Rahul Kanakia (Aug. 2; Disney-Hyperion)
Reshma Kapoor is a Tracy Flick-style overachiever, by any means necessary. After a post she wrote for Huffington Post about double standards for Asian students is spotted by a literary agent, Reshma is about to add "author" to her impressive resume. Except, the book is supposed to be about a "regular" American high school student, and Reshma has spent so much time in the library that she hasn't really done much else. So in the name of research, Reshma heads out into the world to find friends, a love interest, and stereotypical teenager antics, except she does it by all the wrong means. The story is funny in her foibles, and it's sure to hit hard for loads of high school students currently trying to figure out their future.
10. All We Have Left by Wendy Mills (Aug. 9; Bloomsbury USA Children's)
This poignant story is publishing just when we need it most — a time when anti-immigrant rhetoric is being spouted on a pretty much daily basis. All We Have Left jumps between two periods of time and follows two different girls: Alia is a proud Muslim who gets trapped with another young man in her dad's office in the South Tower of the World Trade Center on September 11, and Jesse, who is consumed by Islamophobia 15 years after the event that killed her beloved brother. Readers quickly learn that the helpful, kind young man with Alia in the tower is Jesse's brother. You're going to need tissues for this one because it's going to tear your heart out.
11. Cherry by Lindsey Rosin (Aug. 16; Simon Pulse)
If American Pie was gender-flipped, you'd get Cherry by Lindsey Rosin. It's so much more than that, though, because, duh, young women and sexuality is far more intriguing a concept with a lot more stereotypes and hate to overcome. In their senior year of high school, four best female friends make a pact to lose their virginities. Layla has a serious boyfriend, Alex claims she has already done it, Zoe blushes at the idea of sex, and Emma doesn't get caught up in all this sex stuff. Rosin's debut is LOL-worthy, but it also has a lot to say about female friendship and sexuality.
12. Vicarious by Paula Stokes (Aug. 16; Tor)
Sisters Winter and Rose Kim both work as stunt girls so Rose's ex's company can record their neural impulses. This adrenaline is then packaged and sold as Vicarious Sensory Experiences, or ViSEs, for people to have, almost like drugs. During one "recording" session, however, Rose is murdered, and her ViSE recording of the incident is delivered back to her sister and her ex. This sends Winter on a warpath, trying to find the person who killed her sister. It's super high concept, but you'll catch on quickly and enjoy the ride.
13. Spontaneous by Aaron Starmer (Aug. 23; Dutton Books for Young Readers)
I'll start by saying that there isn't another book this month quite like Spontaneous. This darkly absurd novel starts with high school senior Katelyn Ogden spontaneously combusting during class. Suddenly, seniors are just spontaneously combusting during class. The grown-ups start blaming all the biggest world problems, like terrorism, drugs, and, LOL, homosexuality, for this phenomenon. Readers follow the story through Mara Carlyle's eyes, and it's a complete treat to hear her blunt, funny voice.
14. Ghostly Echoes by William Ritter (Aug. 23; Algonquin Young Readers)
William Ritter's Jackaby series has flown a little further under the radar than some series getting additions this month, but it can hold its own. If you want to start from the beginning, the series is set in New England in the 1890s. Jackaby is a paranormal investigator, and Abigail Rook is his sidekick helper. In Ghostly Echoes, ghost Jenny Cavanaugh has enlisted their help to solve her own murder, decades before.
15. Furthermore by Tahereh Mafi (Aug. 30; Dutton Books for Young Readers)
Tahereh Mafi's Alice in Wonderland tale follows Alice Queensmeadow as she ventures into a magical land trying to find her father, who has been lost for three years. If you have a younger sister or cousin, or hey, if you want to feel like a little kiddo yourself, this middle grade novel is one fantastical, lush, female-driven fantasy that deserves a spot on your bookshelf.
Joanna Gordon is proudly out as a lesbian. But then her popular radio evangelist father remarries and moves the new family out of Atlanta, where Joanna feels accepted, to the smaller, far more conservative Rome, Georgia. Joanna's sexuality has always been a point of contention with her father, and it only amplifies when they move. So, he asks that Joanna not flaunt the fact that she is a lesbian so he doesn't lose respect or popularity in his profession. Ick. But, when Joanna meets Mary Carlson, that promise is going to be a lot harder to keep.
The Babcock matriarch is sick with leukemia, and she's traveled to Mexico to receive alternative treatments she couldn't get in her San Diego home. Her three beautiful, blond daughters — middle sister Vanessa, Adrienne, the foul-mouth oldest, and 9-year-old Marie — gather together in the hospital to stand by their mom's bedside. But soon enough, something other than cancer starts to poison their family. Calla Devlin's prose is hauntingly beautiful, and there's a touch of darkness in story about sickness, family, and love.
18. Girl in Pieces by Kathleen Glasgow (Aug. 30; Delacorte)
Girl in Pieces is a tough read. Charlotte Davis cuts herself, something she began doing to cope with her father's death and her abusive mother. She continues to cut, even though she knows it her best friend Ellis into essentially a coma. A lack of insurance coverage means Charlotte has to leave the hospital after a suicide attempt, far too early than she needs. This portrait of a young woman isn't just about self-harm, it also is about Charlotte as a person with other hopes and desires and passions who has obstacles in her way.
An Ember in the Ashes was my pick for best YA book of 2015, so I'm going to join everyone's united squeals for Sabaa Tahir's anticipated sequel. We pick up with Elias and Laia as they flee for their lives and go on search for Laia's imprisoned brother. If you thought book one was tension-filled, just wait for this one. The Empire soldiers are after the duo, and they aren't quite sure to trust. Meanwhile, Helene is second in command to the maniacal Marcus, and readers should definitely expect more bloodshed. Just read this one, already.
Image: YAWednesdays/Instagram