Who Are The Democratic Convention Speakers? Hillary Clinton Has A Powerful Group Backing Her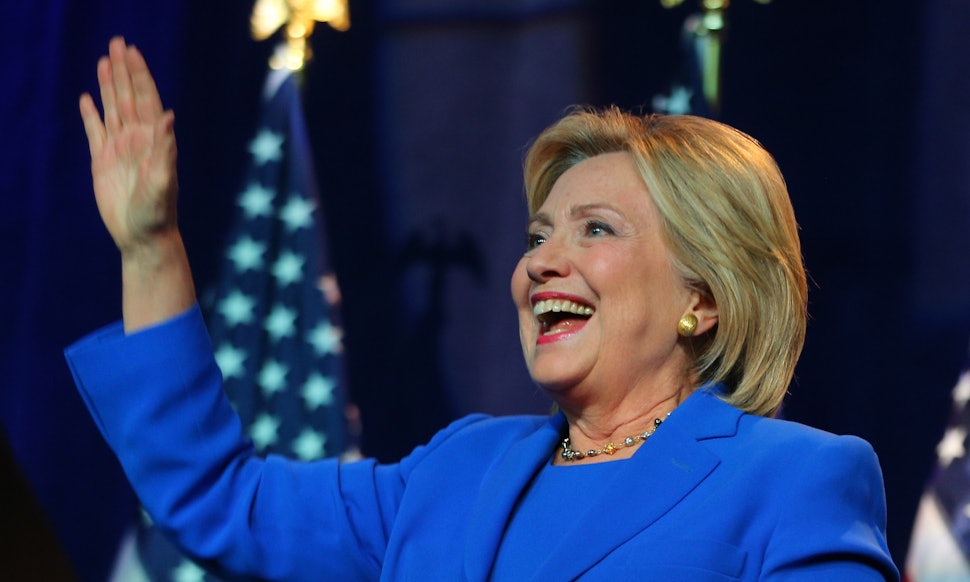 Adam Bettcher/Getty Images News/Getty Images
The Democratic National Convention will be a historic event for many reasons, but especially if we formally nominate a woman as a major party's presidential candidate for the first time. After witnessing the madness that was the Republican National Convention and all of its speakers, I've found myself wondering: Who are the DNC speakers? Hillary Clinton has a powerful group backing her at this year's convention.
The DNC will take place from July 25-28 in Philadelphia, Pennsylvania, at the Wells Fargo Center. The speeches are some of the most highly-anticipated events at the national conventions, and, at times, it seems like they can make or break a candidate's success moving forward. The RNC had its fair share of less-than-perfect speeches, from Melania Trump's speech that mimicked lines from Michelle Obama's 2008 DNC speech to Ted Cruz's RNC speech in which he didn't endorse Trump for president. However, based on the list of speakers for the DNC, Clinton will be in much better hands.
The first night of the DNC will focus on a theme of "United Together," which is already in stark contrast the divisive and hateful messages spread at the RNC. Prominent speakers for the first night include Michelle Obama, Bernie Sanders, and Astrid Silva, an immigration activist who President Obama has invoked in his past speeches. Additionally, Elizabeth Warren was invited to speak on the first night of the DNC, which likely signals she will not be Clinton's VP pick.
The second night will feature Bill Clinton as one of the speakers, which will be an interesting speech given how public their relationship has been throughout the years. But the rest of the speakers for Night Two are what many are most looking forward to: the Mothers of the Movement, whose children have all died from police brutality, will be speaking. The mothers of Trayvon Martin, Eric Garner, Tamir Rice, Michael Brown, Dontre Hamilton, Jordan Davis, and Sandra Bland will be in attendance, among others.
Obama and Vice President Joe Biden will stump for Clinton on Wednesday night, which will surely prove to be a powerful and important evening for her campaign moving forward. The final night, Thursday, we'll hear from Chelsea Clinton and, of course, Clinton herself.
The schedule is still coming out, so there are likely more speakers to come. Most notably, we don't know when Clinton's vice president will be speaking at the DNC, whenever she makes that selection. If it's anything like the RNC, we can expect her VP pick to give an impassioned speech on Wednesday evening, but since the speakers list is pretty light on Thursday evening, we could also see the VP speak then, too.
Whatever the final schedule, the DNC will undoubtedly be a historic event filled with powerful speakers spreading a much more inclusive message than we heard at the RNC.