The Original 'Degrassi' Characters Are Doing A Lot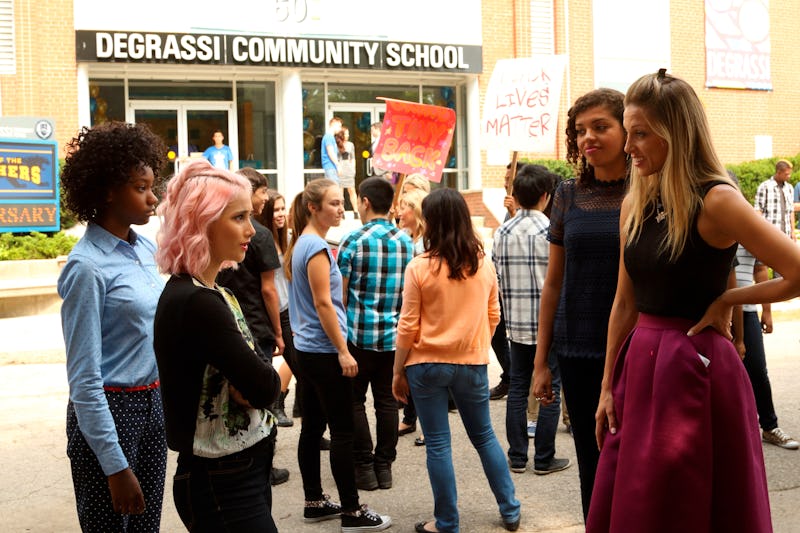 The biggest problem high school-set shows have is figuring out what to do when its characters can no longer believably be in high school. Do they all go off to college together? Do they all stay in town and not go off to college? Those options are both kind of sad for the characters. But, if you have them all go to separate colleges, you have to introduce a bunch of new characters that the audience doesn't really care about. Degrassi: The Next Generation came up with the best solution. It aged up its characters every year, sending the seniors off into the world while introducing a bunch of new freshmen. That way, there was always a mix of people the audience has been watching for years and cares about, and new blood that kept the series going when the veterans got too old. That makes it fun to spot cast members out in the wild, and keep up with where the original Degrassi : Next Generation cast members are now.
The good news is that this season of Degrassi: Next Class, which comes to Netflix on July 22, has a reunion episode—titled "#ThrowbackThursday"—where we might get to see some old, familiar faces. But aside from that, here's where the first-season actors ended up in the real world.
Emma
Miriam McDonald's last acting credit was for the 2014 movie Wolves , a Canadian werewolf movie starring Jason Momoa. But even though she's referenced embarking on a real estate career, she keeps Degrassi close to hear heart, and keeps in touch with other cast members, as seen in this Instagram photo where she's chilling with Nina Dobrev, aka Mia. I really hope the reunion episode updates us on the Emma/Spinner marriage, because I still can't believe that happened.
Liberty
Sarah Barrable-Tishauer is living a life that would make Liberty Van Zant proud. According to her LinkedIn profile, she's a Social Media and Events Specialist at Hays, a recruiting firm. If you look at her Instagram, though, she's a "globe trotter, concert fiend, recipe inventor, social activist, and sunshine worshiper."
Terri
Christina Schmidt became a model — hey, just like Terri!
Spinner
Did Spinner ever leave The Dot? Shane Kippel did, and he joined a band, Dear Love, where, like Spinner, he plays drums. Only you can decide if it's better than Downtown Sasquatch.
Sean
Aww, the bad boy made good. According to his LinkedIn profile, Daniel Clark went from on-screen to behind-the-scenes in news, working various jobs on The Rachel Maddow Show, World News Tonight with Diane Sawyer, and America with Jorge Ramos. He now has his own production company, Dissent Media Corp, and he's the co-owner of eFresh Meals, a prepared meal delivery service in Toronto.
Ashley & J.T.
Melissa McIntyre and Ryan Cooley are…definitely on Twitter? It's unclear what else they're up to—you can follow their feeds to keep up with their day-to-day thoughts.
Paige
Lauren Collins is still acting, with credits that include Kroll Show and Slasher. But she also watches TV, and talks about it, and co-hosts a podcast about The Bachelorette . Also, her enamel pin game is tight, and I'm kinda jealous.
Toby
Jake Goldsbie didn't let having the roughest, saddest storyline in all Degrassi history deter him from acting; he was recently in a play, titled Bad Jews , which celebrated an extended run at the Segal Center in Montreal.
Manny
Currently, Cassie Steele is recording a voice for Rick and Morty, where she plays Tammy. If you love her melodious voice, you can also buy her most recent EP, 2014's Patterns , on iTunes. Otherwise, you can see her in a ton of TV movies.
Jimmy
I think we all know where Aubrey Graham, aka Drake, ended up. He started at the bottom—now he's here.
Image: Courtesy of Netflix