Wow! Kylie Jenner Tested A Lot Of Gloss Colors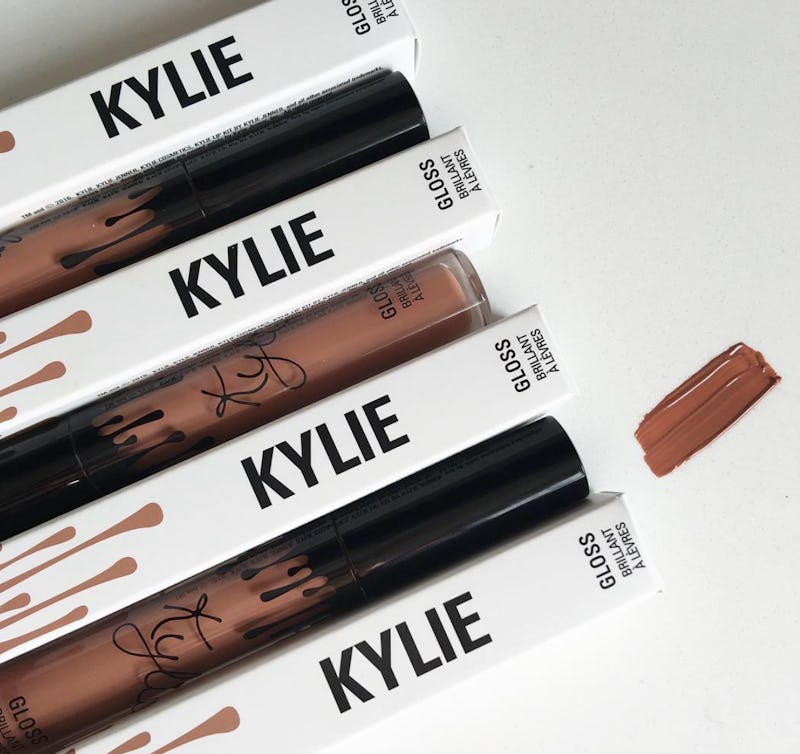 Oh, what could have been! Kylie Cosmetics Lip Gloss collection currently boasts seven shades — the OG trio of Like, Literally, and So Cute, along with the newly issued Candy, Exposed, Posie, and Koko. The latter four colors are Lip Kit shades that have been translated into super wet look, highly pigmented glosses. There are many more mega matte Lip Kit hues than there are Glosses. Despite having only seven gloss shades, don't assume that Jenner isn't super keen on the shiny formula. She actually has spent a lot of time developing her glosses, as evidenced by the Snapchat photo she posted of all the test Kylie Gloss shades she created, but never released.
There are tons of shades and there could be tons of reasons she never manufactured these shades. Will Kylie Jenner eventually sell these test colors? Will she add them to her ever-expanding empire of lip offerings?
Well, the truth is we don't know. But my best guess is that she likely won't release any of these shades. If these rejects didn't make the cut the first time, why would she go back and revisit them? Something had to stop her from moving forward on them and she will likely stick with her gut.
Wow! There are lots of nudes, neutrals, and pinks!
Jenner may have nixed producing these colors because she didn't like them on herself or her fave tester, her BFF Jordyn Woods. Maybe they didn't translate well on actual lips IRL. Maybe her sisters offered input and weren't feeling them. Perhaps the ingredients made these shades more difficult or expensive to produce. It could be anything that stopped them from graduating from test status.
Maybe some of those lighter nude shades were early prototypes of Like, Literally, and/or So Cute? Check out some of those terra cotta, hot pink, and purple shades, for realz. I can't help but continue to wonder why those were never put into production.
Who knows! What we do know is that Jenner and her team certainly put a lot of time into developing new colors for customers.
Jenner also posted this Snap. I think she is referring to all the KLK shades that may have been created but went unreleased. OMG you guys!
Kylie Glosses are known for their thick texture, their rich pigmentation, and their blinding shine. If those test colors weren't up to par, I trust Jenner's judgment.
Maybe she will release a few or all them as a one time only deal, though? A limited ed. Kylie Lip Kit vault, featuring exclusives that were never made? IDK. If I were the betting type, I'd wager that those shades will be exiled to the Land of Misfit Lip Kits for good.
While it was fun to see all the rejected shades, I can't wait to see what hues Jenner adds to her repertoire after the newbies Ginger, Kristen, and Maliboo.
Images: Kylie Jenner Snapchat (2); Kylie Cosmetics/Instagram (5)