The Modobag Riding Suitcase Is Changing Travel 4E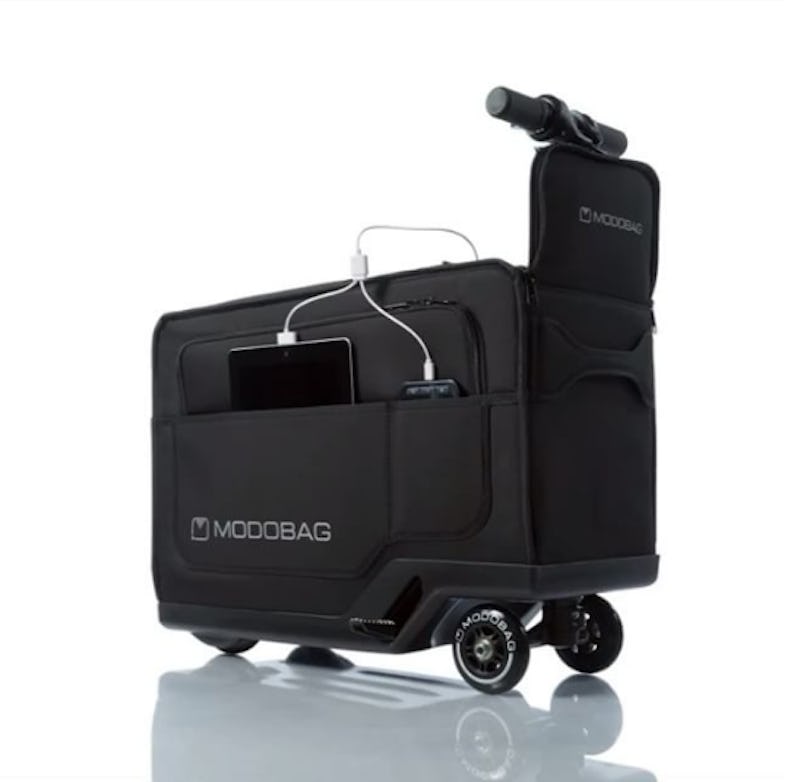 If you've ever been inside an airport, then you'll likely know how annoying it can be to get to your gate on time. While sometimes you plan things out perfectly, other times you probably find yourself running like a linebacker through the terminal, praying you'll make it. But the Modobag Riding Suitcase might change all that. Never again will you have to shout out distracted "sorry's" as you mow little old ladies and children down on your frantic dash to check-in.
Why? Because now you can speed there. Forget Pokémon Go; we now have ourselves a chance to live out all our Mario Kart dreams. According to Mashable, "Modobag, a ridable suitcase, aims to give your feet a break by allowing you to zoom past the slow walkers so you can make it to your plane in record time with minimal effort." All you have to do is hop onto your luggage, kick it into gear, and enjoy the way the wind feels in your hair as you weave between slow-moving travelers and tourists.
It comes with so many additional perks, too, allowing us to "reach speeds up to eight miles per hour, which is about three times faster than walking... and you can ride your bag as long as you please for up to six miles on its battery life," Mashable reported.
In addition to its speed, it's packed with more surprises, offering "two USB charging ports, side pockets for easy access to all of your charging electronics, and a cushioned seat for your six-mile ride," as reported by Condé Nast Traveler.
You guys, the future is now.
But while this snazzy little luggage set might sound like it's the answer to all your prayers, it does come with a few downsides. It'd be too good to be true otherwise. According to Mashable, "Despite seeming compact (meeting TSA standards) it weights 19 pounds on its own." You'll have to pack smartly if you're going to take this baby along as a carry-on.
With many airlines putting 50-pound restrictions on their check-in bags, that's definitely something to take into account when zipping up. Also, the price tag asks for a pretty penny or two: The suitcase will cost you about $995, according to its fundraising campaign on Indiegogo.
But who knows? Maybe the possibility of never having to race to your closing gate again could scare up some room in your budget. The opportunity to go-kart down airport terminals might just make it well worth it.
Images: Modobag (1)