These KyShadow Palette Alternatives Are Everything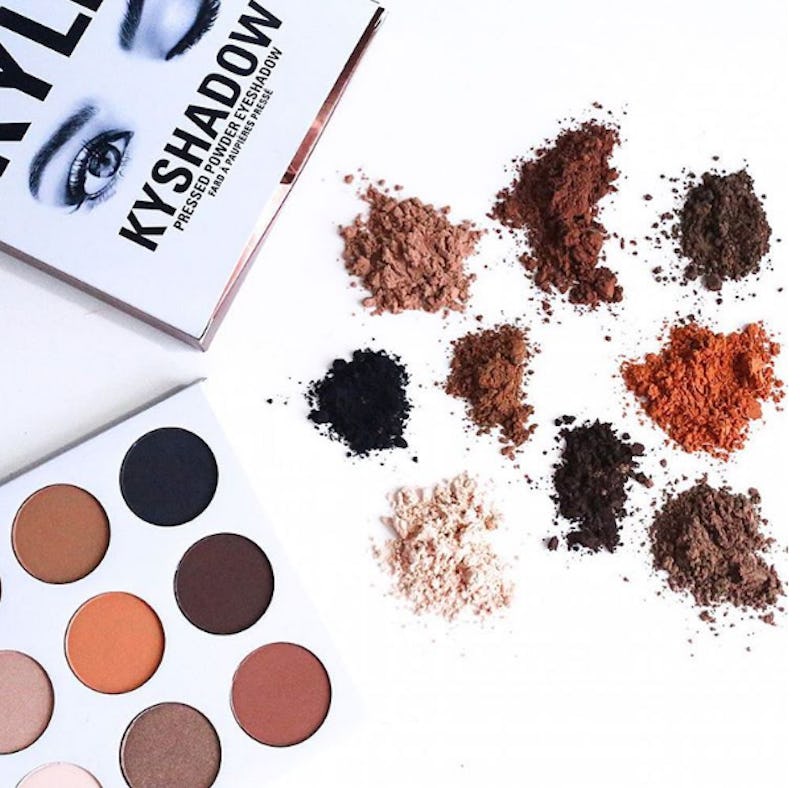 Major major news hit the beauty world today when Kylie Jenner announced she's releasing KyShadow, a new eyeshadow palette. If you're living under a rock (or just don't follow the world of Kylie Cosmetics like a hawk), you should know that this is huge news for the teenage cosmetics mogul. Given the success of her lip kits, this latest product offering from Kylie Cosmetics is bound to sell out fast. Although I know I'll be hitting refresh on kyliecosmetics.com come 3 p.m. PST Tuesday, I know if I don't hit "buy" super quickly on the KyShadow it'll likely sell out. So I've got to have some alternatives, and these KyShadow palette alternatives to shop if you're afraid you won't be able to get one are super clutch.
Jenner's KyShadow palette includes nine bronze-ish shades, seven of which are matte and two of which are are glittery. Ranging from a neutral base shade to a deep brown one to use for highlighting and defining your eyes, the nine shades are designed to make the perfect bronze smoky eye. And if Jenner's snapchat tutorial of her using the eyeshadow palette is any indication, this palette is going to create a seriously striking smokey bronze eye.
How great are those shades? The range is amazing, and the shades all go on nicely pigmented.
As amazing as the KyShadow bronze palette is, we have to face reality here — not everyone is going to get one when the first round of palettes go on sale. If you're not one of the lucky few, these perfect KyShadow dupes will tide you over in the meantime.
1. Treasured Bronze Palette
L'Oreal Paris Colour Riche Dual Effects Eyeshadow, $8.99, target.com
Although this shadow palette doesn't have quite as many shades as Jenner's new palette, it does include a nice mix of basic bronze shades, and that price is hard to beat.
2. Amber Times Nine
Eye Shadow X 9 Amber Times Nine, $32, maccosmetics.com
Although the shades in this MAC palette lean more towards amber than bronze, the neutral shades are similar to KyShadow and the variety of colors means you can totally mix and match your shades.
3. Golden Bronze Trio
20/20 Deep Pigmented Eyeshadow, $28, softsurroundings.com
Sure, there's only three shades in this bronze trio, but they're the perfect three basics if you're going for a bronze eye.
4. Delectables Nude Eyeshadow Palette
Laura Geller Beauty Delectables Nude Eyeshadow Palette, $45, nordstrom.com
This Laura Geller palette has 14 shades, and there's some amazing bronze shades in there.
5. Colorful 5 Eyeshadow Palette
Sephora Collection Colorful 5 Eyeshadow Palette, $25, sephora.com
This five-shadow palette from Sephora's in-house collection has perfect bronze shades, and the mix of shimmery and matte shades is on point.
6. Pan Eyeshadow Palette
Color Design 5 Pan Eyeshadow Palette, $50, lancome-usa.com
These five shimmery shades from Lancome are the perfect mix of bronze shades, and I'm convinced they'll create a great dupe for the KyShadow eye.
Although you should set your alarm to get the real KyShadow palette Tuesday, if you don't, these are great alternatives.
Image: @kyliecosmetics/Instagram