This 'Jason Bourne' Scene Changes Everything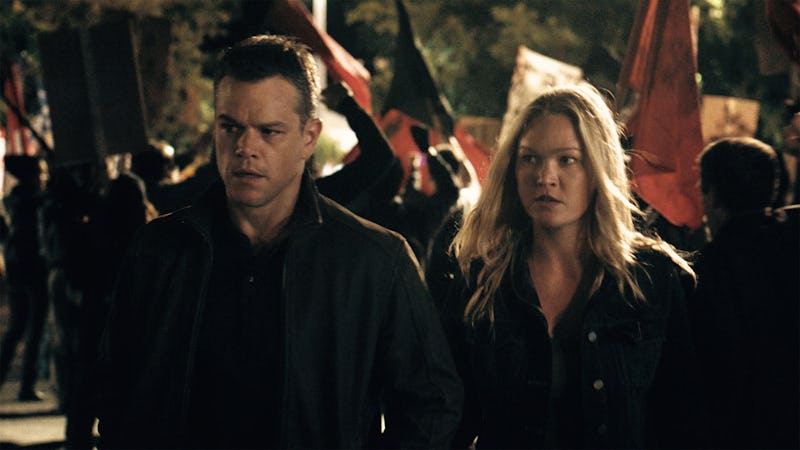 Stop right here if you haven't seen the new Bourne movie, because I need to talk about something big. The latest film in the franchise, Jason Bourne, features a major, game-changing scene, and if you don't want to know what happens and who it affects, get to a theater now and then report back. All good? OK. Now, let's get down to talking about the fact that (last spoiler alert) Julia Stiles' Nicky dies in Jason Bourne , and the death of one of the series' biggest characters has a pretty huge effect on both Bourne himself and the entire franchise.
For the past three Bourne movies (I'm not counting the Jeremy Renner-starring Bourne Legacy), Stiles has had a fairly substantial role as Nicky Parsons, the former Treadstone logistics technician who has helped Bourne (Matt Damon) out in the toughest of situations. At the end of 2007's The Bourne Ultimatum, Nicky had been sent into hiding but learns that Bourne hasn't died, as many had thought. At the start of Jason Bourne, Nicky is seen hacking into the CIA's system and stealing classified files on Treadstone. She tracks down Bourne and shares her knowledge, yet when the two team up in Greece, tragedy strikes — an assassin hired by Treadstone to take down Bourne shoots and kills Nicky instead.
It's a heartbreaking scene, and Bourne's emotional reaction to seeing Nicky die is one that viewers won't likely forget anytime soon. Although Nicky was always a supporting character in the Bourne movies, she, as played by Stiles, made a big impact every time she was on-screen, and her loss will certainly have a big effect on both how Bourne handles his future relationships (if there are more Bourne movies to come) and whatever Nicky's legacy will turn out to be. Whatever happens with the character going forward, though, Stiles, who describes Nicky's role in Jason Bourne as that of an "anarchist," tells Bustle that she is happy to have made her return, even for a brief amount of time.
"I love working with Paul Greenglass and Matt Damon, so I was really excited and so happy that I had a role in this installment," she says. "But also, I was really excited that my part is out in the field, so to speak, meaning not just in the CIA headquarters — I get to be outside. And I was really interested in seeing what they would do with Nicky."
Stiles adds that she was particularly interested in exploring Nicky's bond with Bourne, whatever it actually is. "What's interesting about Nicky's relationship to Jason Bourne is that there's always this personal connection," she says. "In Ultimatum, there was a scene where she hinted that she maybe had a relationship with him and he doesn't remember it, or she at least knew him when he was coming up through the training program, and she saw what was being done to him."
Whether or not any future Bourne movies will explore the relationship between Jason and Nicky remains to be seen, but no matter what happens, Bourne fans everywhere will be mourning the loss of one of the series' most beloved characters.
Images: Universal