Bey's "Formation" Is The Best MTV Video Nominee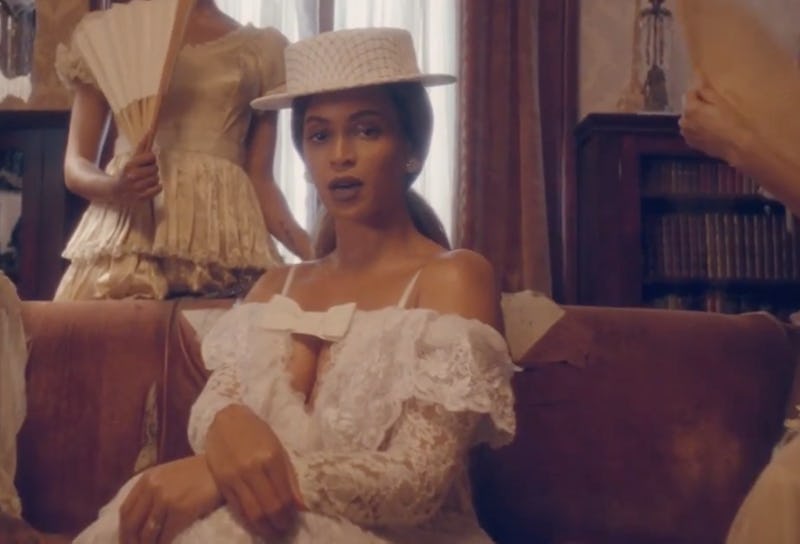 In an announcement that should shock no one, and one that Kanye will hopefully approve of, Beyoncé's "Formation" was nominated for MTV's Video of The Year Award. The nominations were announced early Tuesday afternoon, though the ceremony won't take place until the end of August. Bey will be competing against some tough competitors: Adele's "Hello," Drake's "Hotline Bling," Justin Bieber's "Sorry," and Kanye West himself for "Famous." Looking over that list, it's clear that it has been a year of iconic music videos, but "Formation" is the pretty obvious frontrunner.
For those who haven't memorized the date as a national holiday, "Formation" was released on February 6. Its important to note that the VMA award would not belong to Beyoncé (at least entirely): Melina Matsoukas, who has directed lots of videos by Beyoncé, Katy Perry, Rihanna, and Snoop Dogg, directed the iconic video and would be getting a piece of that recognition as well.
While "Hotline Bling" became a meme and "Famous" started a dialogue about art and provocation, none of the other nominees were instantly recognizable by the majority of the population in a matter of hours after they came out, so much so that Beyoncé performed the song at the Super Bowl the day after. After the success of Lemonade, "Formation" is still as iconic as ever in its imagery and messages.
The most important reason that "Formation" deserves to win is it is the most, and perhaps only, politically relevant video that was nominated — despite the fact that "Famous" featured a nude Donald Trump. "Formation" contained references to Hurricane Katrina and Black Lives Matter, and it's been impossible to forget, given the almost daily news about police brutality and ensuing protests, the image of a little boy dancing in front of a line of cops, the words "stop shooting us," or the line of black dancers in formation.
On a less serious note, the video is fun to watch, and watch, and watch again. It's visually iconic; it's impossible for me to listen to the song without also picturing what outfit Bey is wearing, or how she's dancing at every lyric. The video is multifaceted, somehow fun and heartbreaking and proud all at once. "Hotline Bling" broke the internet, "Sorry" got everyone dancing, "Hello" made everyone cry, and "Famous" got people talking, but "Formation" did all of these things and more.
Basically, it's Beyoncé's year; give her all the awards.
Image: Beyoncé/Youtube