The New 'MADtv' Cast Makes A Great Ensemble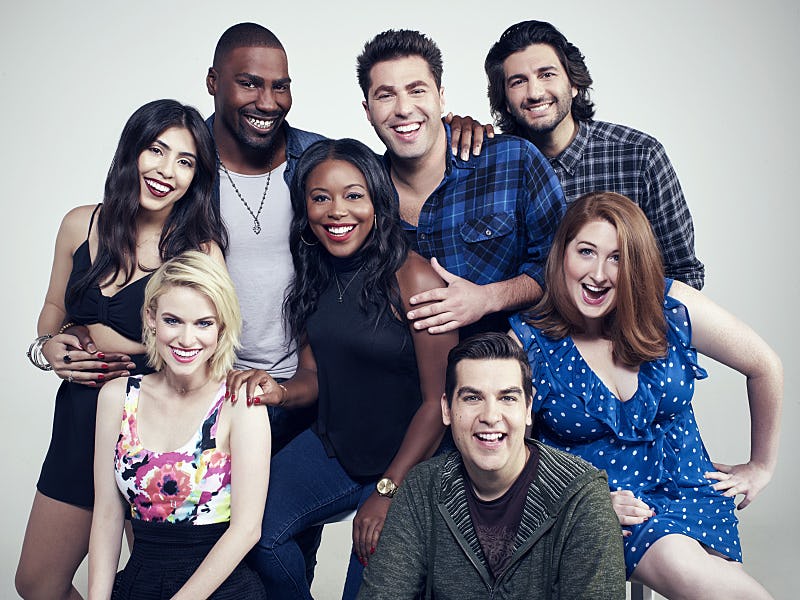 The new MADtv starts back up Tuesday night, who's excited? With Party Over Here, Portlandia, Kroll Show, Key & Peele, and Inside Amy Schumer, there has been plenty of sketch comedy on television besides the more "classic" Saturday Night Live. There's something for everyone. However, there is something special about the series that launched comedians like Ike Barinholtz, Angelah Johnson, Nicole Sullivan, Mo Collins, Alex Borstein, and both Key and Peele. Who's in the new cast of MADtv ? Get ready to meet your next comedy obsessions.
The eight main cast members are already more diverse than most comedy "troupes" on television, and I don't mean just in terms of gender, race, and ethnicity. Each person has a different comedic skill set, which makes them a powerful ensemble. Just like the many options we have in comedy today, there's something for everyone in this cast too! Some old cast members will be returning, for fun and to help launch the series on The CW, but this cast should be able to stand on its own. Here are the new faces of MADtv, what they're bringing to the table, and where you might already know them from.
Carlie Craig
You may know Craig from Todrick . She also competed on First Impressions, which is no surprise, because she's great at them!
Chelsea Davison
She's written for @midnight and you have got to watch her amazing Lena Dunham impression.
Jeremy D. Howard
Howard has made a lot of web-series and specializes in characters.
Amir K
With a few roles in movie and television, he's more known as a stand-up comedian, who made it to the semifinals on Last Comic Standing.
Lyric Lewis
Lewis has acted in many shorts — and you must see her Viola Davis impression in this HTGAWM sketch.
Piotr Michael
Disney kids know his voice from Wander Over Yonder, but this impressionist has been all over.
Michelle Ortiz
You've seen her before in Life In Pieces, but according to the CW's official press materials, she has studied theater and opera in Russia and Germany, respectively. That's an impressive set of skills that will definitely add a lot to this cast.
Adam Ray
Finally, Ray is best known for working with Paul Feig. He's the voice of Slimer in the new Ghostbusters, and was also in both Spy and The Heat. That's your new MADtv cast. I can't wait to see how they work together as a team!
Images: Tommy Garcia/The CW (9)