10 Beach Reads That Are Creepy AF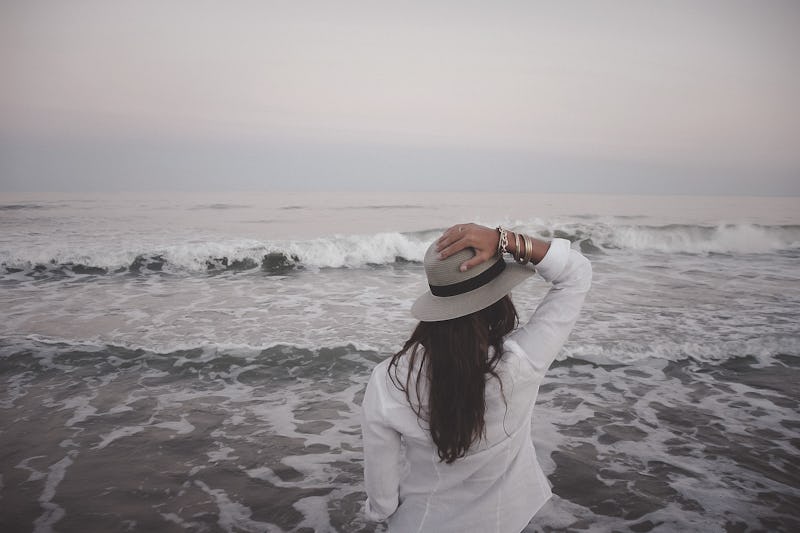 Once the warm weather hits, you start seeing a ton of blog posts telling you what the best summer beach reads are. I'm guilty of writing a warm-weather reading list, too, but mine tend to include more creepy summer books from Paula Hawkins, Gillian Flynn, Neil Gaiman, and more.
After all, you don't have to change your literary interests just because we tend to equate a certain type of book — romance, women's fiction, YA — with summer reading. For instance, if you prefer to read about ghosts and ghouls and nightmares and murderers, why wait around until Halloween or cool weather to indulge in your love of creepy tales? I say bring a little Halloween to the beach with you.
Below are some of my favorite books that are creepy AF. While some revolve around actual monsters (vampires and zombie and other nasty beasties), others deal with the more human side of horror: murderers and psychopaths and other real life-monsters that keep you up at night. Maybe reading these stories surrounded by happy beach-goers will make them slightly less horrifying, but I wouldn't count on it. You know it's possible to get nightmares in the summer too, right?
Rachel is an alcoholic who has lost control of her life since her husband left her for another woman. Every day she pretends to head to work and fantasizes about the seemingly perfect life of a couple she sees from the window of the train. One day she notices the woman kissing another man, and then sees a police report that the woman has gone missing. Rachel is determined to help with the case, but after she wakes up bloody and with no recollection of where she was, she begins to suspect that she's more involved than she'd like to be.
If you thought Gone Girl was creepy, wait till you read this one. Camille is a reporter who, after the tragic death of her sister years earlier, turned to carving words into her skin to dull the pain. Recently released from a psychiatric hospital, Camille is assigned to investigate a string of murders in her hometown, a place she has avoided for years. As she attempts to live with her mother and stepsister, she begins to think that there's a connection between these recent murders and the death of her sister years ago.
Melanie is a brilliant little girl who just so happens to also be a zombie. A fungus has caused a zombie outbreak in the world, and the remaining humans are struggling to survive alongside their flesh-eating counterparts. A number of zombie children, however, have shown the ability to think, reason, and emote, and are currently under observation. This is a very different zombie novel than you may be used to, but it's no less creepy.
I have a soft spot for H.P. Lovecraft, but I'll be the first to admit that his tales aren't the easiest reads. This book takes the best of Lovecraft and puts it in a slightly more palatable form. Daniel Carter used to be a homicide detective, but after a particularly terrible case he retired and became a private investigator. Unfortunately, his "quiet" new life is interrupted by a bunch of strange deaths that eerily match some of Lovecraft's famous stories.
We've read plenty of books about children who wander away and end up in Narnia, Wonderland, or some other fantastical world. But what happens to them after they're forced to return home? Eleanor West was a child like that once, and now she runs a school for other children who long to return to their fantasy land but are trapped in reality. This dark tale deals with the aftermath of such childhood adventures. After all, would Alice's parents have believed her story, or would they have locked her up as insane?
Returning to his old home for a funeral, our narrator visits the house of a childhood friend named Lettie. While there, he begins to remember the events leading up to Lettie's disappearance from his life, a time he has repressed all memories of. After a monstrous force invades his life and threatens him and his family, Lettie promises to protect him in any way that she can. Unfortunately, that may mean a sacrifice that the narrator doesn't care to remember.
I love a good fairy tale retelling. And if those retellings are dark and have overtly feminist messages, even better. Carter's collection of fairy tales put the heroines of some of our favorite stories (Beauty and the Beast, Little Red Riding Hood, Bluebeard) in the spotlight. These women are strong, sensual, and at times murderous, which is exactly how I like my heroines.
8. Innocence by Jane Mendelsohn
Beckett isn't the most popular girl at her new high school. In fact, she barely has any friends at all. The popular girls are beautiful...and also being preyed upon by the school nurse who has something to hide. When this nurse marries Beckett's widowed father, Beckett begins to suspect that the nurse is leading a pack of vampires who are feeding on the blood of these beautiful girls. But can Beckett be trusted, or is this all a delusion?
Leonora receives an invitation to her old best friend Clare's hen party. Though the two women haven't spoken for years, Nora decides to make nice and attend the party, which takes place in a cabin in the woods (already a bad sign). Later, Nora wakes up in hospital bed with no recollection of how she got there or what happened over the weekend. Oh yeah, and now someone is dead and Nora has no idea if she killed him or not.
Hazel finds out that she's pregnant with her married professor's child just as the world begins to collapse. An illness affecting people with blonde hair is turning them rabid, and now anyone with light hair is suspect. Hazel's red hair is liable to get her locked up (and may put her in danger of being infected), so she decides to take shelter in the only place she can think of: in a cabin in the woods with her lover's wife.
Images: Frank Park/Unsplash