The Fate Of 'Wayward Pines' S3 Is Still Undecided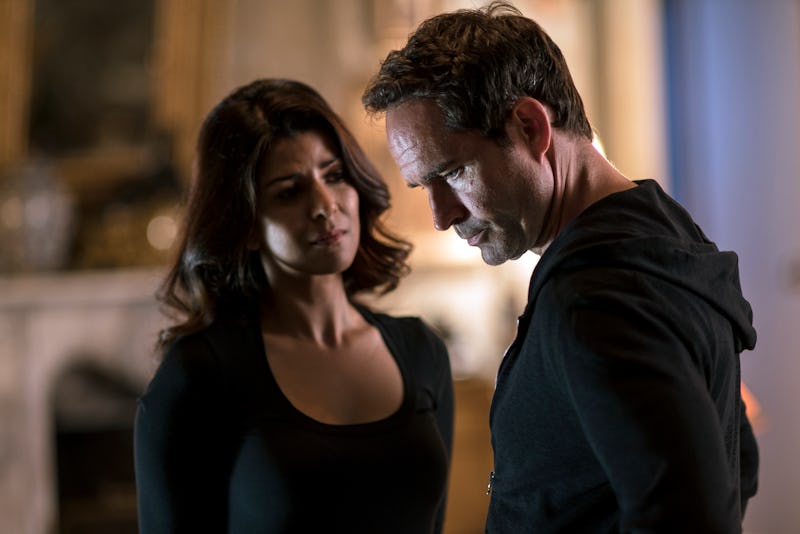 Will the bizarro town of Wayward Pines, Idaho survive the impending attack by the horde of bloodthirsty abbies at its gates? Which of its citizens will ride out the storm safely in suspended animation — and which will be deemed unworthy of salvation? Will our hero, Jason Patric's Theo sacrifice himself the way Season 1's protagonist, Matt Dillon's Ethan, did during last year's finale? These questions and more linger in the minds of fans of the FOX summer sci-fi series as the Season 2 finale approaches this Wednesday. But one mystery hovers over all: Will Wayward Pines be renewed for Season 3?
It's not just the fate of the town and its citizens that hangs in the balance; FOX has yet to announce a decision either way when it comes to the show's future. It's frustrating to tune into a season finale when you don't know whether or not you're watching the last episode of the show you'll ever see, but viewers shouldn't be too discouraged. When the Season 1 finale aired last July, the show's Season 2 renewal had not yet been announced — in fact, the network wouldn't officially pick up the series for its sophomore season until December, five full months after the finale had aired.
At the time, Wayward Pines fans had every reason to believe they'd witnessed the show's last chapter; it had always been billed as a 10-episode "event series," and the promos for Episode 10, "Cycle," touted it as "the epic series finale." But when it became clear there was more story to tell — and after the show had surpassed expectations in both ratings and critical reception — FOX awoke it from cryo for round two. Wayward Pines defied the odds once, and it can defy the odds again…
…Maybe. Last year, the show did have one thing going for it that it's lacking this year: bragging rights as the most-watched scripted TV show of the summer. In the L+7 ratings (meaning everyone who watched it live and within one week of its airing via DVR or streaming) within the coveted 18-49 demographic, Wayward Pines edged out the likes of CBS' Under The Dome and HBO's True Detective to take the Summer 2015 crown with an average rating of 2.4.
This year, that number is way down. The most recent episode of Wayward Pines with L+7 ratings information available only pulled in a 1.2 — literally half what the show was averaging this time last year. Fortunately for Wayward Pines, ratings seem to be down across the board, since that number still puts it in the upper echelons of all scripted programs across both broadcast and cable channels: ahead of TNT's The Last Ship (1.0), tied with CBS' Zoo (1.2), but behind NBC's The Night Shift (1.5), for example. So while the downward trend in the ratings obviously isn't great, it's not necessarily a disaster for the show, either.
But if there's going to be one reason why Wayward Pines gets renewed for a third season, it's going to be because of its executive producer, M. Night Shyamalan. In an interview with Entertainment Weekly in advance of his show's Season 2 premiere, Shyamalan explained why Wayward Pines expanded from its original one-and-done concept — and how long he thinks it will last.
After the success of the first season, Blake [Crouch, author of The Wayward Pines Trilogy] came to Philly and we hung out and I said, "Let's just talk about what the end of this story is, and let's work backwards from there. If we came out and didn't feel strongly about the end point, then we'll just leave it." But, we thought it would be kind of cool to see if we had an ending, so we basically came up with an ending that we loved and then we said, "Well, how many episodes would it take to get to that end?" In our mind, we broke it up to an additional two seasons. It's still an event series, but instead of 10 episodes, it's 30… We felt like there was still a lot to be said about what it's like to be on the last town on the planet.
Since Shyamalan himself says there's only one season left to Wayward Pines, and given the show's still-adequate ratings, it seems likely that FOX will let him see it play out. And, for the record, Shyamalan says there's no chance his plan for the series will expand yet again. "No, I don't think so," the filmmaker told EW. "When we sketched it out over the few days we were there, I said, 'We have to go from here to here to here,' and we got there. By the end of the second season, we were exactly where we wanted to be."
Hopefully, next summer we'll all be exactly where we want to be: on our couches watching the third and final season of Wayward Pines. Fingers crossed!
Images: Ed Araquel, Serguei Bashlakov/FOX