'RHOC' Star Briana's Health Has Been A Major Topic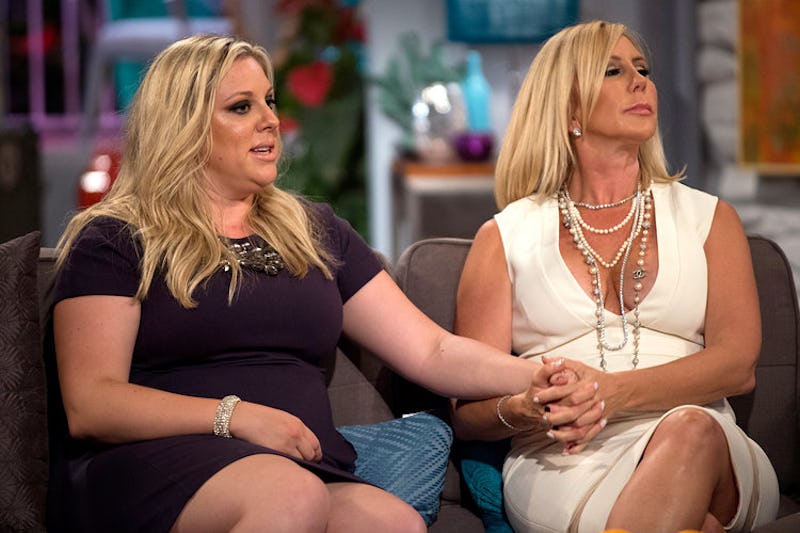 Vicki Gunvalson always talks about being the "OG of the OC" on Real Housewives of Orange County, but I feel like the same thing can be said about her daughter, Briana Culberson, since she has been around for the entire run of the show. Not only have viewers watched her grow up in front of the cameras, but she is basically an honorary Housewife at this point. Honestly, I don't get why she is not an official cast member, because she really should be. Culberson always knows what to say and she's always compelling. But sadly, a big part of Culberson's story on the show is about the medical issues she has experienced throughout her mom's time on RHOC. We have really seen her go through so much.
In 2010, during a Season 5 episode of RHOC, Culberson told her mom that she had several grape-size tumors on her thyroid and neck. And in 2011, Culberson had surgery that involved removal of "her entire thyroid, numerous nodules, and lymph nodes," as Gunvalson explained on Facebook. A few days later, Culberson got results back from pathology that revealed that her thyroid was benign and not cancerous. The viewers got to see this all play out during a 2012 story line on Real Housewives. On top of that, in 2015, Culberson had surgery to remove enlarged lymph nodes. Soon after her mom tweeted some good news about the results:
This year, Culberson's health problems became pretty mysterious and even her doctors have had trouble pinpointing her exact issues. She had a surgery in Oklahoma so doctors could try and figure out what has been happening, but according to Gunvalson, it didn't end up going well. In an interview with Entertainment Tonight, Gunvalson claimed, "We went immediately into the hospital. She was admitted three weeks in isolation. She had a cross-contamination, hospital-acquired infection from a hospital in Oklahoma. Very, very sick. She still is having residual effects from doctor's error in Oklahoma. They were going to kill my daughter, basically. So, I got her out of there."
This situation played out on the show recently, and Culberson shared that she had problems with her leg as a result of the infection and had to undergo yet another surgery. Things were so bad that doctors told Culberson that she couldn't even go on a plane when she decided to move back to Orange County from Oklahoma.
In another episode, Culberson had trouble breathing at a gas station and was rushed to the hospital in an ambulance, which was very scary.
Now, we are waiting to see how this all ends up since RHOC is currently airing. Hopefully, my favorite (unofficial) Real Housewife of Orange County can get all of these health issues resolved and is able to move on with her life.
Image: Bravo