The Tarte Family & Friends Sale Ends Soon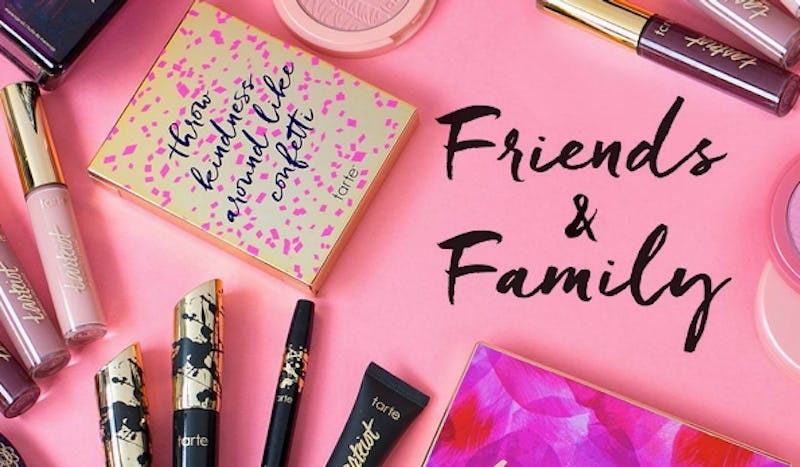 Normally friends and family sales only work if you actually know someone on the inside of the company. Well, not anymore. Tarte is proving that they are there for their fans by letting everyone in on the fun. When does the Tarte friends and family sale end? You'll want to start filling up your virtual cart as soon as possible.
In case you might've missed it, Tarte's annual family and friends sale is in full swing. That means that for a limited time you can get 30 percent off almost everything on the site. All you have to do is head to the site, pick out your favorites, and use the code FNF when you're ready to check out. It's really that easy!
Unfortunately all good things must come to an end, and this sale is one of them. Your last day to shop the sale is July 27. That means you should probably stop reading this now and head over there. You can get almost half off of their most popular items like their Shape Tape Contour Concealer and the brand new Pack Your Bags 911 Undereye Rescue Patches. Even some of the bestselling palettes are up for grabs for less.
The sale has been going on since July 23, so some of the items are sold out. There's still plenty of great items to add to your collection though. If you're looking for a sign to shop, this is definitely it!
1. Young, Wild, And Free Palette
Limited Edition Young, Wild, And Free Amazonian Palette, $28, tarte.com
This palette won't be around for long. With the sale, you can even get it for under $20!
2. Naughty Nudes Lip Paint
Tartiest Creamy Matte Lip Paint Naughty Nudes in Choker, $20, tarte.com
All five of the Naughty Nudes lip collection is still up for grabs too.
3. Brazilliance Self Tanners
Brazilliance PLUS+ Self Tanner, $39, tarte.com
Because summer isn't over, people!
4. Frixxxtion Exfoliator
Frxxxtion Stick 3-In-1 Exfoliating Cleanser, $22, tarte.com
Even their skincare items are up for grabs at a sale price.
5. Shape Tape Contour Concealer
Shape Tape Contour Concealer in Fair, $24, tarte.com
The company is even offering one of their bestselling concealers, but some of the shades are already sold out.
6. Pack Your Bags Undereye Treatment
Pack Your Bags 911 Undereye Patches, $22, tarte.com
It wasn't too long ago that Tarte announced this new skincare item, and now you can get it at sale price.
7. Tartlette Eyeshadow Palette
Tartelette Amazonian Matte Palette, $45, tarte.com
They didn't exclude their full-sized palettes either.
What are you waiting for? Go get to shopping!
Images: TarteCosmetics/Instagra (1), tarte.com (7)