How To Wash Your Hair In A Protective Style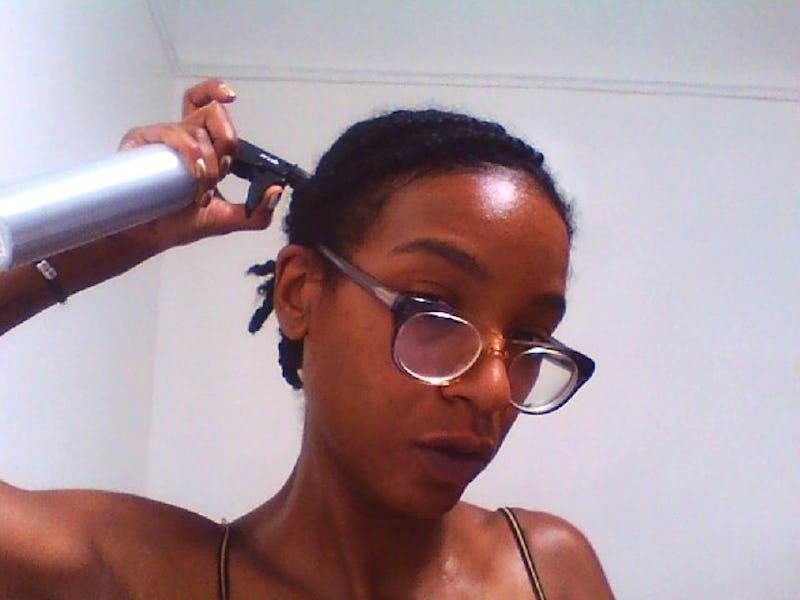 One of the reasons I believe my hair doesn't grow as rapidly as my heart desires is that I slack on properly washing my hair in a protective style. After about three days in a protective style, my hair becomes coarse and dry, at which point I'm definitely trying to plant some water and nutrients in my bed of hair. I don't necessarily need to deep cleanse and condition every few days — that would be hell on my tresses — but I do know I need to keep my scalp moisturized for growth and my 'fro soft and hydrated.
Protectives styles are no doubt necessary for afro textured hair, but it's easy to get a little lazy and leave them in without giving your strands a bit of moisture. According to the Black Girl Long Hair site, not taking care of your hair is the number one way a protective style can become more damaging than helpful. Low manipulation styles — like twist outs, crown braids, and single braids — are definitely easier to take care of because they tend to only involve the hair on your head. Anytime you get weaves or extensions involved, you'll have to add a second step to care for that extra hair in a different manner.
Even though they take less careful attention, low manipulation styles still shouldn't be left in for longer than two weeks. Everyone's hair is different, but most of us kinky-haired babes need a deep condition treatment at least monthly (and that's the lazy part of me talking).
But for those days in between my deep conditions, here's how I've been fighting dryness in my protective styles.
1. Make A Clarifying 'Pooless Cleanser For Your Scalp
I love playing with hair cleansing recipes, but you don't have to get too crazy with your concoction. My favorite has a base of one cup of strongly brewed chamomile tea for its excellent cleansing and antioxidant properties. In the cup of tea, I add two heaping tablespoons of raw honey, for pH balancing my hair and keeping it hydrated. I put two ounces of apple cider vinegar, another excellent cleanser and pH balancer, in a sealable container.
Once my tea has cooled, I transfer it to my sealable container and fill the rest of my jar up with rose water. In my glass jar, I added 10 drops of lavender tea tree essential oil and two drops of eucalyptus for the cleansing hair properties.
2. Get Your Scalp Nice & Wet
You can spritz your hair with a spray bottle to get your hair and scalp soaked, but I prefer the quicker method of dunking my head in warm to hot water for about 90 seconds. This allows the only natural moisturizer, water, to work its way into tiny curls that aren't necessarily exposed in my protective style. Massage the scalp gently and carefully to let the water soak up.
3. Get Cleansed
Again, you can go the spritz route with your cleanser, but if your style permits, pouring it directly on your hair and scalp will have a more lasting effect. I drench my hair and scalp with my cleanser, making sure I'm carefully and gently massaging all over my scalp — without ruining my protective style, of course. Leave your cleanser in for about five minutes and rinse out by dunking your hair back into the water.
4. Make A Leave-In Conditioning Spray
I'm all about my leave in sprays: They are key for when I'm in a protective style or when I'm taking the style out to wear my hair loose. For my spray, I made a mixture of castor oil, avocado oil, coconut oil, water, and calendula oil. Of course, I added lavender essential oil to ward off that inevitable greasy smell fixed oils can leave. You can use the emollients that work best for your hair type and play around with combinations until you find the formula that works best for you.
5. Get Sprayed With Moisture
While your hair is still wet, spritz the conditioner evenly throughout your hair and massage into your scalp. Treating your scalp is just as essential as treating your tresses because when your scalp is dry it's less likely to promote new hair growth. Allow your hair to air dry with the spray-in moisturizer and relax for a few days in your protective style.
You and your 'fro will determine how long you can wear a protective style for. Once you've fully cleansed, you can usually wait a couple of days before re-moisturizing with your spritz. Again, you'll know the frequency of how often you need to moisturize in your protective style by touch and your hair type. I tend to wait a few days in between moisturizing to keep my hair from being weighed down from product-overload. It's worth it to not have to take my hair down as often!
Image: Kristin Collins Jackson (5)