"Voices From Flint" Proves We Must Invest At Home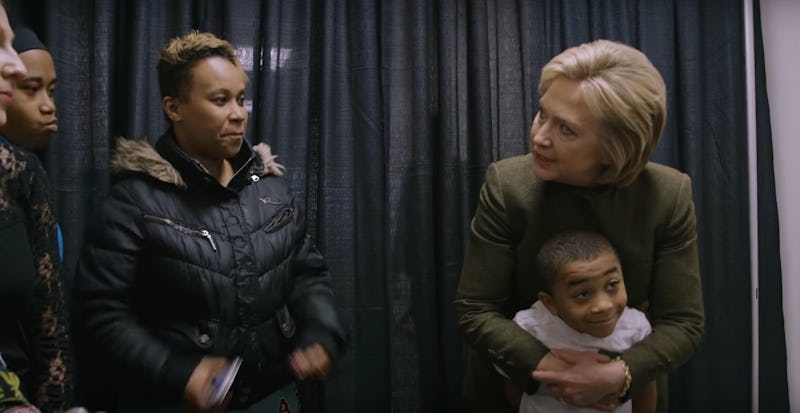 In the midst of all the fanfare and spectacle of the Democratic National Convention in Philadelphia this week, sometimes it can be easy to forget that there are massive, systemic issues which make a dignified life difficult for many Americans. The "Voices From Flint" short film shown at the DNC highlights just how much work needs to be done when it comes to upgrading our national infrastructure, while highlighting just how traumatic and dehumanizing this two-year nightmare has been for the people of Flint.
The film starts out with a countdown as a white hand moves to switch Flint's municipal water supply from Lake Huron to the polluted Flint River in order to save money. Then, the testimonies begin. "In my household, there's a total of six. So for all of us to bathe, it's with bottled water, you kinda have to ration out water," says an unnamed Black woman featured in an interview. "Sometimes it breaks my spirit," is the devastating second part of her statement.
Another heart-wrenching testimony from an unnamed Black woman featured in the video claimed that the poisoned drinking water caused her to miscarry her twins. "I was pregnant with twins in July. I lost them. I went through a horrible, horrible miscarriage. When I came home, I got something from the city of Flint that said pregnant women and 55 and over shouldn't be drinking this water. But my son has really been having problems. He's only in the first grade, you know, and he's tested positive for lead."
A clip from one of the multitude of debates that took place this cycle then shows Clinton using an open-ended question from moderator Lester Holt to speak to the injustice in Flint. "I spent a lot of time last week being outraged by what has been happening in Flint, Michigan, and I think every single American should be outraged. We've had a city in the United States of America where the population has been drinking and bathing in lead-contaminated water," the former First Lady said.
The final moments of the short film showed the Democratic Party's nominee smiling and posing for photos with children affected by the tainted water in Flint, while remarking on the ability of the young son of the aforementioned woman who miscarried affected by the Flint crisis. He is shown to be interested in cameras and maintain concentration despite being poisoned by contaminated water from his own municipality.
Clinton then went on to remark on her commitment to making sure that the people of Flint had a chance to recover from this crisis, alluding to policy or programs designed to offer support to children who have been impacted by this crisis. "His interest in cameras shows his concentration, shows his ability to follow through, and focus," stated Clinton, embracing the boy. "We need to make sure that he gets a chance to learn how do that. I'm serious." Specific policy suggestions weren't shown in the video.
"We need action now. I will not for one minute forget about you, or your children," the Democratic nominee said in a voice-over. Here's to hoping that whoever is elected our next president will take swift and immediate action to rectify the injustice caused by local officials more concerned about their city's bottom line than the health and safety of their people.