Ramona Needs To Get Over This 'RHONY' Drama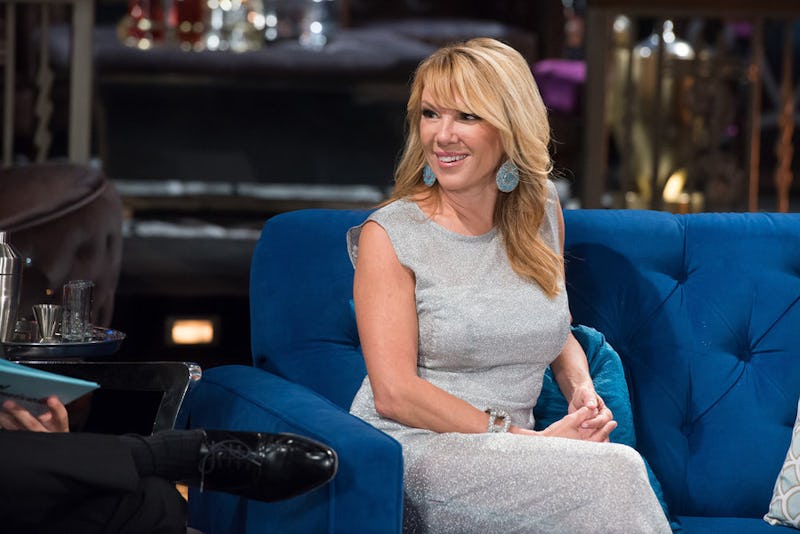 Did you think that all of the drama in friendship groups ended after high school did? Nope — you'd be wrong, and Real Housewives Of New York is really perpetuating the idea that people really never grow up. Luann de Lesseps is getting married to her fiancé, Tom, and Ramona Singer just can't let it go on Real Housewives Of New York . Why? Because Ramona went out with Tom a handful of times (the number changes every time she brings it up), and for some reason she thinks that Luann is breaking girl code. In the build-up to Luann's engagement party, Ramona brought this up to everyone who would listen — and I mean everyone. Ramona, you have to get over the fact that Luann is engaged.
And when I say Ramona brought it up to everyone, I mean she had four or five separate conversations over the span of the hour-long episode about dating Tom and how weird it was that Tom was marrying Luann. Different combinations of people, different settings, but all the same conversation. We haven't seen it yet (it's in the preview for the next episode), but Luann eventually has to tell Ramona to cut the crap, because Ramona and Tom went out not even a handful of times, and that's not serious like marriage serious, especially because Ramona was dating other people at the time. I mean, come on, Ramona. There are more important things to worry about than a guy you went out with once or twice marrying someone you know.
That's not to say that the Real Housewives Of New York social circle isn't small — it's myopic — but Ramona just needs to suck it up and be happy for her friend. That's what you do when your friend is marrying someone you don't love — as long as she is not in danger, you deal with it. Ramona isn't used to having the center of attention move away from her, so she needs to bring it back to herself by putting herself in Luann's relationship. To paraphrase something Ramona said about Luann — you're 50 years old, and you need to get over it.
Images: Charles Sykes/Bravo; Giphy