Here's Where You Can Get The Impossible Burger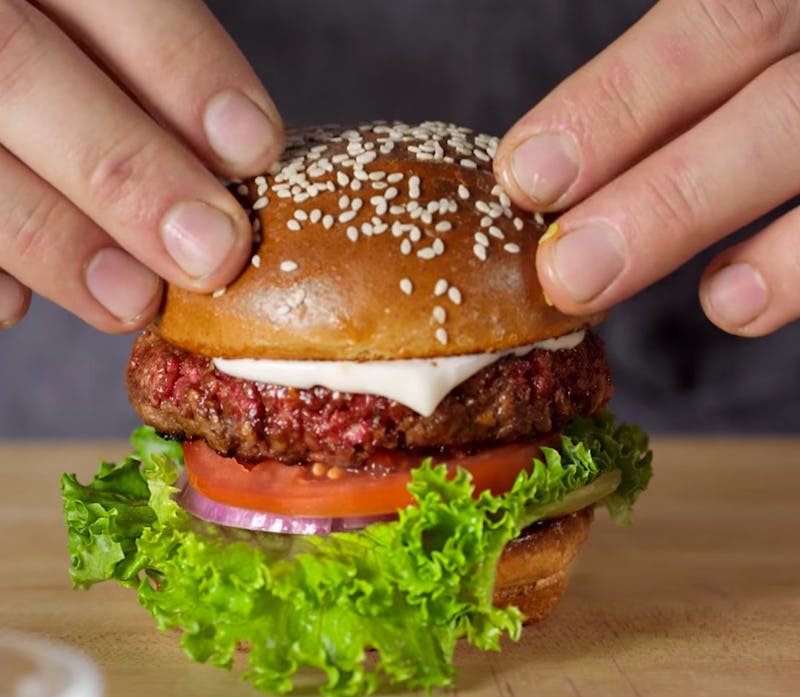 You might recall that about a month back, we all encountered a delicious, juicy, mouthwatering, delicious, delicious burger — that was actually entirely plant-based. (Um, yes please!) Visions of meatless burgers were immediately dancing in my head, until the CEO from Impossible Foods (the company that created it) announced that it wouldn't be available until later in the year. But good news: We now know where you can get the Impossible Burger. It's currently being rolled at at Momofuku Nishi in New York — but there are a couple of catches, so here's what you need to know.
First, they're only going to be available during lunch (between noon and 3:00 p.m.) and happy hour (from 5:30 p.m. to 7:00 p.m.). Second, they're available for order on a first-come, first-serve basis. So if you want to get your hands on this tasty dish, don't wait too long. The burger comes with a bill of about $12.
Some unofficial taste testers are already confirming what I've been dying to know — saying that if they hadn't been told ahead of time, they would've thought they were eating real meat. It's exciting news, particularly for herbivores, because let's face it: The meatless burgers on the market right now might taste all right, but they taste nothing like beef.
Some pretty hefty research went into trying to copycat beef without using beef, and it certainly sounds like Impossible Foods hit the bullseye. The Impossible Burger is crafted with wheat and potato protein, coconut oil, water, and a special molecule called heme, which is found in both meats and plants and is what makes your blood red.
This is also an amazing creation because of the environmental impact. The negative side effects of producing meat burgers are undeniable in terms of water, land, and greenhouse gases. Impossible Foods says that making their veggie burger uses 95 percent less land, 74 percent less water, and releases 87 percent less greenhouse gas emissions. That right there is reason enough to enjoy a meatless burger.
Image: Impossible Foods/YouTube