Here's How Superman Fits Into 'Suicide Squad'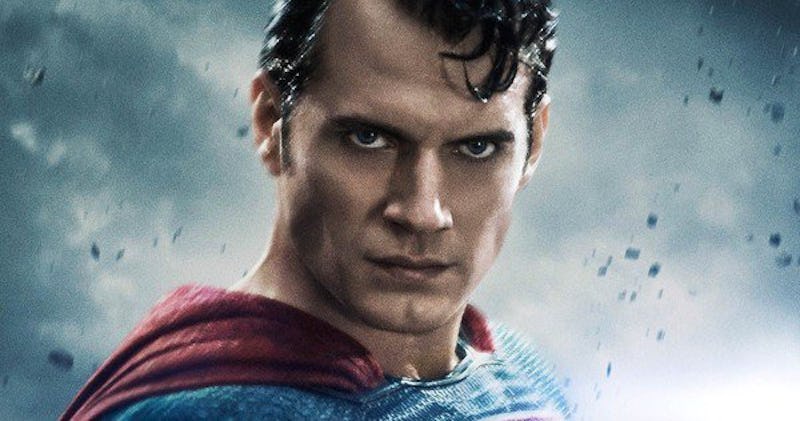 You might be looking forward to the forthcoming Suicide Squad for Jared Leto's emo-Joker realness or Margot Robbie's turn as an ass-kicking anti-heroine, but it's not all about dirty deeds in DC's newest movie. Yes, the film chronicles a supergroup of villains who are sent on a life-threatening mission by the government, but you can't have bad guys without a good guy, right? Rumors about a beloved DC protagonist possibly showing up in Suicide Squad have been circulating for awhile now, thanks in part to the release of Batman v Superman in early 2016. A Batman appearance was confirmed in 2015 when reporters caught Ben Affleck lurking around the Suicide Squad set, and then an updated trailer showed the Dark Knight and his sweet ride making a cameo. But what about his partner in crime? Is Superman in Suicide Squad , too?
Unfortunately, the answer looks like a solid no. In an interview from 2015 with Metro, Superman actor Henry Cavill gave a solid "no" when asked if he would appear in Suicide Squad . The good news, however, is that Cavill seemed hopeful about his role in a sequel, providing an enthusiastic "I might be!" when asked if he'd ever appear in a follow-up film. So, no, Superman is not in Suicide Squad , but that's not to rule out the possibility of him appearing in a sequel.
As for how Superman-in-Suicide-Squad would work, there are a few possibilities. The footage released from the new movie include a mention of Superman by Amanda Walker, and so it's possible that he'll actually turn up in a future film. In the footage, Walker calls Superman a "beacon" for superpowered people revealing their abilities, the person causing the chaos that leads to the Suicide Squad's formation. Superman's role in the new movie could easily link this DC franchise to the others as the comics giant expands its film universe in the upcoming years. And while Superman himself might not appear in Suicide Squad, his most famous enemy might. In June, a longer cut of Batman V Superman was released and featured a scene where Batman carts Lex Luthor off to Arkham, where he could potentially meet Harley Quinn and crew before they are transported to Belle Reve. It's worth noting that while this is still speculation, CinemaBlend reported on a photograph from director David Ayer that shows what appears to be Jesse Eisenberg training with a man who's assumed to be Scott Eastwood.
While it's been confirmed that Superman won't be in this Suicide Squad movie, a Luthor role seems likely. This could easily carve a pathway for Clark Kent to show up in a sequel — talk about #squadgoals.
Images: Warner Bros. Pictures; Giphy