Ways To Apply Makeup, Fast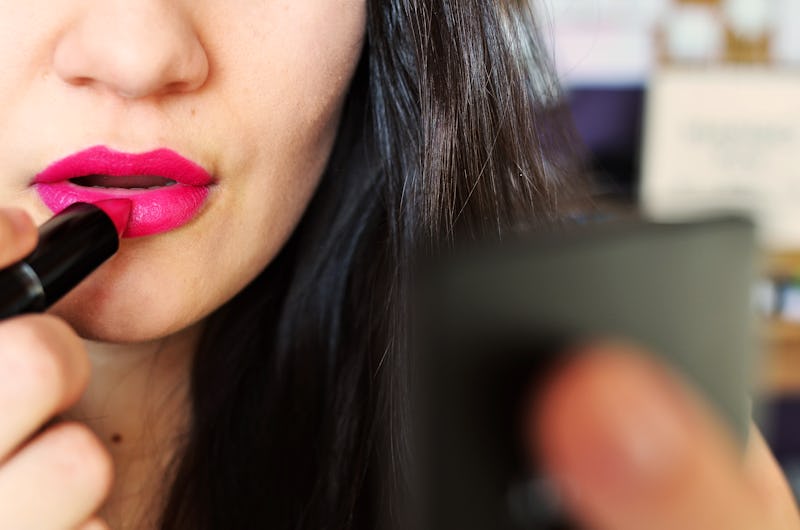 Sometimes (AKA most times) we just don't have an extra hour in life to stand in front of the mirror, leisurely applying our makeup. In fact, most days we're pretty short on time, and it's why makeup tips for when you're in a rush are majorly helpful in most of our lives.
I've often found that the bitter irony of rushing my makeup is that I make more mistakes than usual, meaning I end up wasting a lot of time just doing what I like to call "damage control" (as in when I hastily apply mascara, accidentally blink, and end up with product all over my eyebrow. Fun times). This leads to an even greater sense of stress and urgency, leaving me all the more rushed and anxious. It also means that a good 50 percent of the time I leave the house, get to where I'm going, and suddenly realize about a third of my face is poorly blended. It's the eternal struggle.
OK, so we all know rushing to do our makeup isn't ideal, but what can be done about it? I reached out to LA-based makeup artist Ashley Gomila over email to find out, peppering her with questions about her top tips for fast makeup application.
If you're tired of leaving the house with smudges and blotches, here are Gomila's top five makeup hacks for when you're in a rush.
1. Start With Your Eyes
"Do eyes first!" Gomila says. "It allows you to touch your face as much as you want when applying eyeshadow, liner, and mascara without messing up your foundation." She also recommends having q-tips on hand, and simply dipping them in moisturizer to quickly remove any eyeliner or mascara mistakes.
2. Just Use Concealer
Urban Decay Naked Skin Weightless Complete Coverage Concealer, $12, Sephora
If you only have time to apply a single product, Gomila says to skip the eyes and lips and simply use concealer to cover dark spots or areas of discoloration. As much as this doesn't sound "fun" to me, because it means I'd have to skip my favorite colorful products (holla, bold lip!), I have to admit it makes sense. I'd rather look like I'm not wearing any makeup but have a nice, even complexion than wear a lot of makeup that looks hastily applied. Plus, I'll always have time to throw on a tinted lipgloss, no matter how much of a hurry I'm in.
CLINIQUE Redness Solutions Instant Relief Mineral Pressed Powder, $34.50, Sephora
And if you only have time for two steps, Gomila recommends simply canceling redness. She says it's the smallest thing we can do when applying makeup that will yield the biggest results overall. She specifically recommends trying Clinique's Redness Solutions Instant Relief Mineral Pressed Powder. It's slight greenish/yellow tinge instantly helps neutralize red patches.
4. Use Eye Shadow As Eye Liner
Urban Decay Naked2 Basics Eyeshadow Palette, $29, Nordstrom
"If you're short on time use a brown eyeshadow as an eyeliner by slightly wetting a brow brush before dipping it into the eye shadow and it makes a fast and easy glide on liner," says Gomila. "It's great for when you lose your eye pencil sharpener too!" And on a personal note, I find using dry eye shadow with a thin applicator brush also does the trick when in a rush!
5. Think About Foundation Drops
COVER FX Custom Cover Drops, $44, S ephora
So this tip was new to me, but Gomila raves about Cover FX foundation drops, which are highly pigmented drops that you can mix with your usual moisturizer or base product for as much or as little coverage as you want. It essentially means you can combine multiple makeup steps into one. After doing a little reading about the product online, I've found that most users also absolutely love this product, though many note that you just need to ensure you're using the right kind of moisturizer (or else it can look cakey) and that you may need to do a little trial and error the first time you use it to get the process down (but once you do, the results are great).
On-the-go makeup shouldn't stress you out. Just think about it in terms of maximizing your time, and focusing on the steps that will yield the biggest overall results. Problem: solved!
Images: Pexels (2)