The 'Suicide Squad' Soundtrack Is Crazy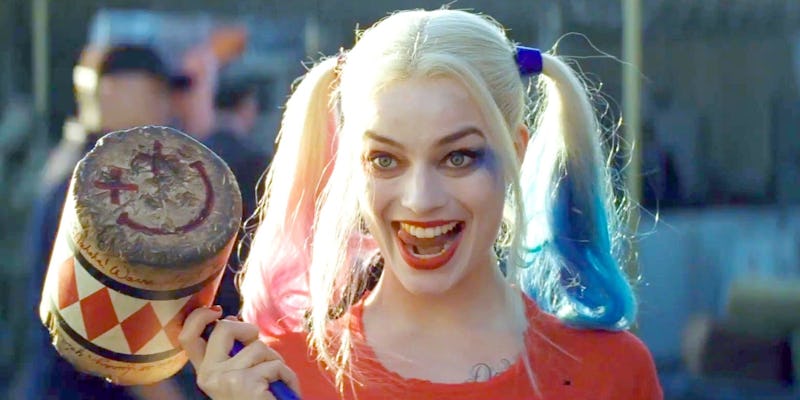 Suicide Squad looks like it's going to be one of the most fun movies of the year, with its star-studded cast, outlandish costumes, and unconventional approach of featuring supervillains as the "good guys" in a DC Comics movie. One big aspect of the film that looks crazy fun is its music. The trailers have all featured drastically different songs, and the Suicide Squad soundtrack, available for pre-order now, similarly culls from many genres. But even though the tracks have totally different sounds, they are all playful and defiant, and they come together to create a soundtrack that feels both zany and tongue-in-cheek.
There are plenty of great songs on the list, from "Heathens" by Twenty One Pilots to "Without Me" by Eminem, and many of them feature prominently during the movie. The 14 tracks on the album represent a wide range of artists. You can listen to new songs like "Medieval Warfare" by Grimes and covers like Panic! At The Disco's version of "Bohemian Rhapsody," so no matter your musical taste, the Suicide Squad tracklist has got you covered. Here are a few other songs from the Suicide Squad soundtrack that you can listen to prior to the album's Aug 5 release.
"Heathens" By Twenty One Pilots
A good fit for the film.
"Without Me" By Eminem
The music video for this gleefully irreverent song actually features Eminem and Dr. Dre as "superheroes" in a comic book adventure.
"Sucker for Pain" By Lil Wayne, Wiz Khalifa & Imagine Dragons (with Logic, Ty Dolla $ign & X Ambassadors)
Imagine Dragons' catchy chorus is interspersed with four rap verses, all amidst the backdrop of a Suicide Squad-style setting and clips from the movie.
"Purple Lamborghini" By Skrillex & Rick Ross
This song is an unexpected but awesome fusion of Skrillex's synth and Rick Ross' rhymes. When the beat drops, you'll be hooked.
If you want more, you can pre-order the entire soundtrack on Amazon or iTunes now. That way, you'll be ready to rock when Aug 5 rolls around, and you can enjoy all the rowdiness of the Suicide Squad soundtrack from the comfort of your own earbuds.
Image: Warner Bros