Your Guide To Tinting Eyebrows With Coffee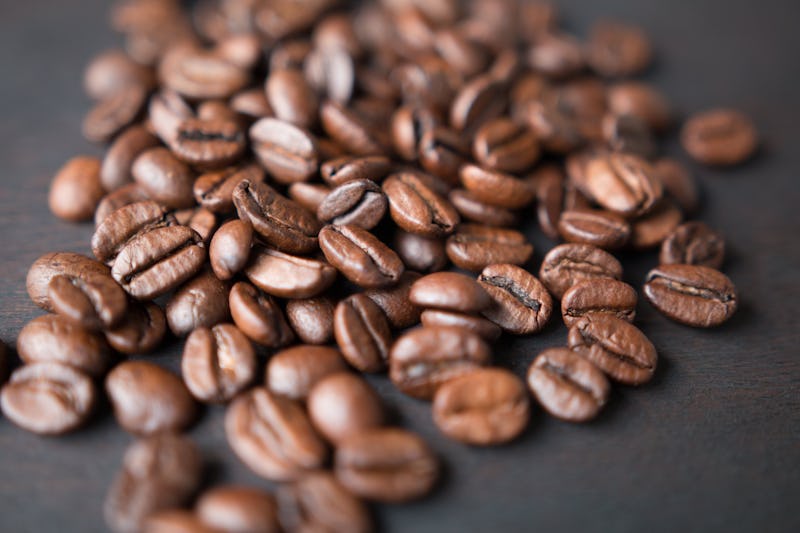 Ah, coffee — the elixir of life. This is what fuels late nights, early mornings, acts as daytime liquid courage, and makes for snazzy Instagram material too. Consider me guilty when it comes to daily $5 iced lattes, but what about coffee in terms of beauty? Sure, I wouldn't say no to a cappucino-flavored lipstick, but let's take it up a notch and go the DIY route: tinting eyebrows with coffee. It's real, it's natural, and hello, it's coffee.
The idea of transforming your cup of joe from everyday drink to revolutionary beauty hack has been around for ages. Coffee grounds can be repurposed to aid circulation, de-puff eyes, and exfoliate skin, according to Stylecaster. And now, your holy beverage can even double as an eyebrow tint. Why force yourself to be yet another victim of consumerism when you can simply whip up some brow tint right in your own kitchen?
If you absolutely lack any Pinterest-worthy talents, don't fret. The difficulty level for crafting a coffee-based brow tint is on the low side. You'll only need a few ingredients, and the prep time is manageable. Plus, if you already have leftover coffee grounds hanging around at home — because let's face it, you probably do — this would be the perfect way to use 'em. Here, beauty vlogger Jennifer Chiu schools us on how to make the coffee eyebrow tint of our dreams. Get ready to amp up your brow game, coffee edition.
1. Mix Coffee Grounds and Cocoa Powder
In a bowl, add two tablespoons of leftover coffee grounds and one teaspoon of cocoa powder. The cocoa is especially useful for brightening the tint, so if you're after lighter brows, don't skip on this ingredient. Mix accordingly (pretending to be a high-profile Food Network chef optional).
2. Add Coconut Oil
Real talk, when isn't coconut oil a godsend? Next, you'll want to add two tablespoons of coconut oil. Mix some more.
3. Add Honey
Chiu also recommends adding honey to the mixture to ensure that the tint will stick to the skin.
4. More Mixing!
Keep on mixing until you achieve a liquid paste consistency. Allow the mixture to sit for about two minutes so the ingredients can bind together.
5. Brush Your Brows
Using a spoolie brush, comb through your brows to prepare for all that tint action.
6. Apply Tint
Using a flat brush, apply tint to brows in small strokes. Try to keep in line with your brow shape, starting with your inner brow area and ending with the outer area. Feel free to layer on the tint until you've achieved your desired color.
7. Play The Waiting Game
Though Chiu suggests waiting for 20 minutes to allow the tint to sink in, the time entirely depends on you. The longer you wait, the darker a tint you'll get.
8. Remove Tint With Wet Cotton Swap
The hard part is over! You can now remove the tint using a wet cotton swab. This process could get messy, so proceed with caution (no one wants coffee-stained clothes, right?).
9. Admire Your New Tinted Brows!
Reason #401 to love coffee.
Images: Mark Daynes/Unsplash, Jennifer Chiu/YouTube