'BiP' May Have Some Surprising Hookups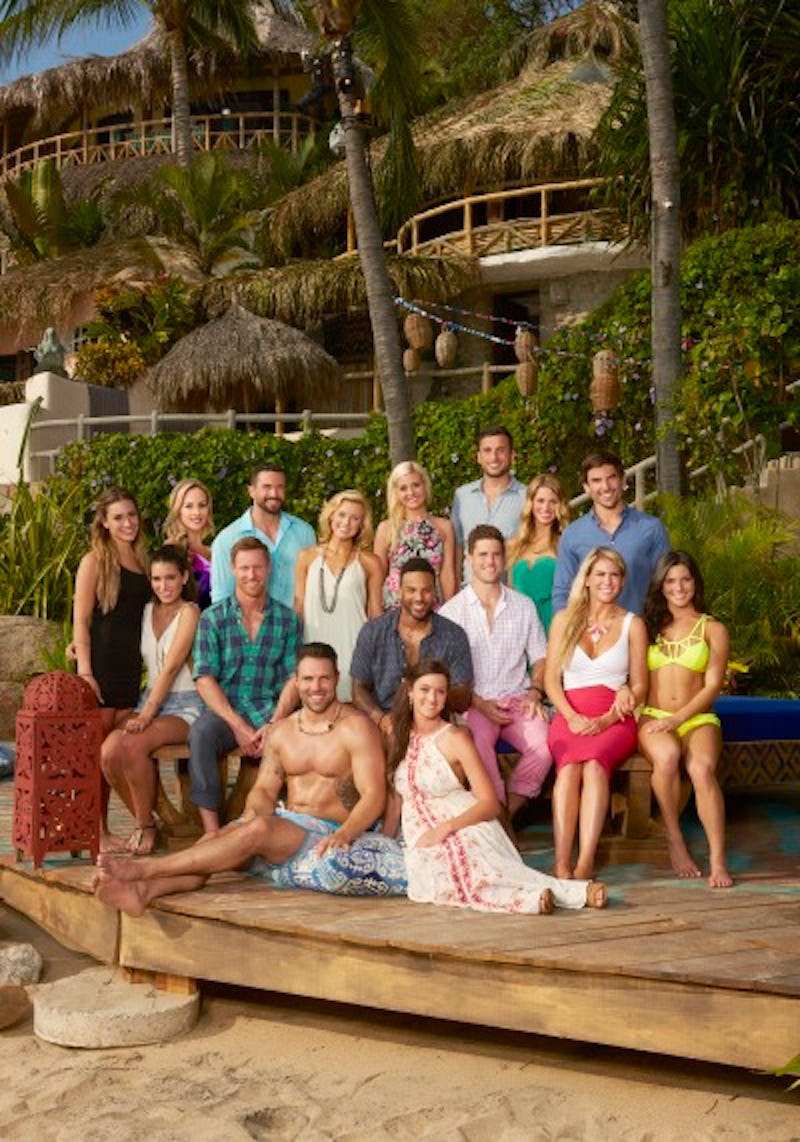 Obviously, the best parts of Bachelor In Paradise are the hookups that inevitably occur between former Bachelor and Bachelorette contestants from various seasons. If you really think about it, these contestants are probably watching other seasons of the shows exactly like we do — picking their favorites to root for and formulating little crushes on complete strangers. So, who will hookup in Bachelor in Paradise Season 3? Some people may be coming face-to-face with their pseudo-celeb crushes here, so it's important.
Using some serious scientific research (aka mining the promos for clues and reflecting on the many years of Bachelor Nation shows that I've watched), I've come up with some predictions for who is most likely to get together this summer. I don't know for sure who will actually hookup, so there aren't any spoilers to fear here, just clues from the season preview shown during JoJo's Men Tell All episode last week, which you can watch below. Luckily, we have a huge crop of newbies (thanks to Ben and JoJo's seasons) making their way onto the beach, which means there's even a ton of potential for hookups, breakups, makeups, and more as these single cast members get to know each other.
Let's begin pairing, shall we?
Lace & Chad
These two resident villains need to combine their forces to become one giant bag of drama, and based on the promo, that is very possible. I'm not sure if everyone else in Paradise is ready for it, but I sure am.
Amanda & Nick
These two will apparently go on one of the first dates together and from the preview, they appear to be seriously in looooove. I wouldn't have guessed that they'd fall for each other, but after the promo put the idea in my head, it only made more and more sense. Amanda deserves to find a good guy, so let's hope it works out for the best.
Jared and Ashley I.
I am kind of still rooting for these two to make it happen. I just felt so bad for Ashley when Jared simply didn't return her feelings. She was absolutely heartbroken and the mascara tears were flowing, so she needs redemption. Also, he is really such a sweet guy. The only issue here is that in the preview, it kind of looks like Ashley I. is pulling some shady stuff and possibly trying to sabotage Jared and Caila. Not cool, Ashley.
Caila & Jared
Yes, Jared is on this list twice. As much as I like him with Ashley, I have to admit, he and Caila might be perfect together. They are both two of the sweetest people in the group of Bachelor alumni and I think they would be adorable together. Caila needs a good guy after Ben was such a jerk to her at the end of his season, and Jared seems like he would love her smiley, spunky spirit.
I am sure there will be some more surprising hookups this season that are so unexpected, there won't be a way to accurately predict them. Once people get a whiff of that tropical air, all bets are off. I will definitely be tuning into Bachelor in Paradise Season 3 to see which of my hookup predications are correct and what couples leave me shocked.