You Should Be Excited For 'Bachelor in Paradise'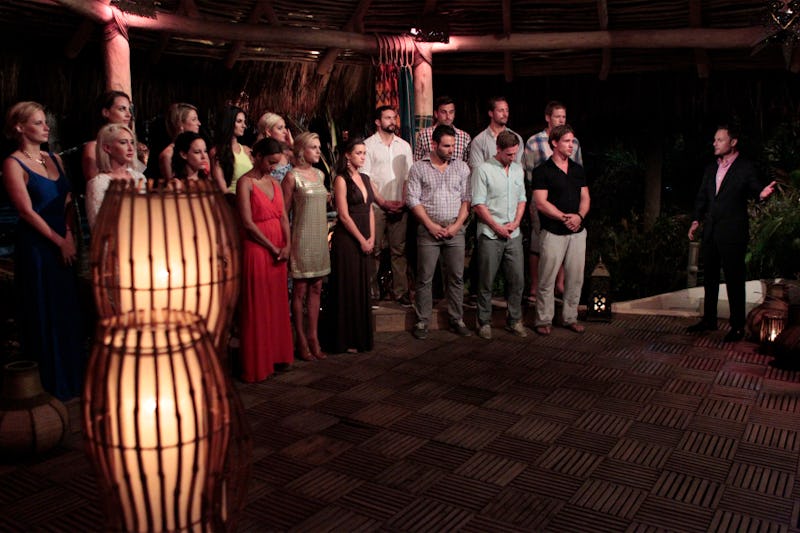 As much as I look forward to the Bachelor season finale every year, it's always a bummer when the show is over. But if you feel the same way, don't worry — there's a lot to look forward to. Soon, JoJo Fletcher's season of The Bachelorette begins, and then the real drama starts: Bachelor in Paradise. For the third year in a row, ABC is giving us a summer full of our favorite former cast members hanging out at the beach together, trading roses, and falling in love (or not), with Chris Harrison once again at the helm. And even though the premiere is probably still a long way off, there are so many reasons to get excited about Bachelor in Paradise .
To be totally fair, if Season 3 wants to be better than Season 2, then it has a lot to live up to. Jade Roper and Tanner Tolbert's success story? Ashley S.? How could it compete? And given that The Bachelorette hasn't started yet, we still don't know who most of the men on the show will be. But no matter what happens, BIP is always so much fun to watch, and I have a feeling this season might be the best one yet.
1. Getting To See Our Favorite Cast Members Again
Being that there are so many awesome people in Bachelor Nation, it's such a waste that there can only be one Bachelor and Bachelorette every year. Fortunately, that's where BIP comes in. With a full cast of former contestants, we get to see everyone we miss again. It's like a high school reunion, but with people you've never met and actually like.
2. Lace Is Back
During her appearance on Women Tell All, Lace basically confirmed that she'll be on the show this season, and that's all I need to know. She's so interesting that I'm sure she won't disappoint us on BIP, and I can't wait to see her stir the pot.
3. Jorge The Bartender
Because he's the real MVP of paradise.
4. A Cheesy Intro
Last year's ridiculous '80s sitcom intro was incredible, so I'm hoping that this year's is even better. It's a lot to live up to, but I think ABC is up to the challenge!
5. Another Engagement? Maybe?
Both seasons of the show so far have resulted in marriages — the first between Marcus Grodd and Lacy Faddoul, and the second for Jade Roper and Tanner Tolbert. I have faith that this year won't break that streak, and can't wait to find out who this year's lucky couple will be. Or couples, maybe? Two success stories in a season isn't an impossible goal!
6. More Animal Friends
I will miss Clare Crawley and Ashley Salter's friendships with the raccoons and crabs of paradise, but I have a feeling this tradition will be kept alive. Who will it be this time? Lace and a squirrel, perhaps?
7. So. Much. Drama
Something about paradise brings out the potential for an emotional meltdown in people, and I'd be lying if I said that it didn't make for excellent television. Why? It's gotta be the perfect storm of extreme temperatures and a lack of privacy.
8. Hopefully More Ashley Iaconetti
If she wasn't your favorite part of BIP last season, you are lying to yourself.
9. Chris Harrison In All His Glory
I am of the opinion that we don't get to see our trusted host enough during The Bachelor and The Bachelorette, but on BIP, he appears way more frequently. If he is unwilling to join the cast to find love himself, I will settle for more screen time.
10. The Friendships
Most people go into The Bachelor looking for love (and a career in promoting weight loss tea on Instagram) but end up leaving with lifelong friendships, and something about the BIP environment really encourages that. Watching how everyone had Juelia's back last season after the drama with Joe was all the proof I need that the BIP squad is one I want to join.
11. The Love Is Way More Real
It may film for less time than The Bachelor does, but BIP offers up the unique opportunity of finding love with people who have all had the same crazy experience of dating the same man or woman along with a couple dozen other people. The contestants are able to bond over this, there are enough men and women to go around, and some even live happily ever after. What's better than that?
Bachelor in Paradise, I am counting down the days. Let's get Season 3 on the road!
Image: Rick Rowell/ABC