This 'Suicide Squad' Member Has Impressive Powers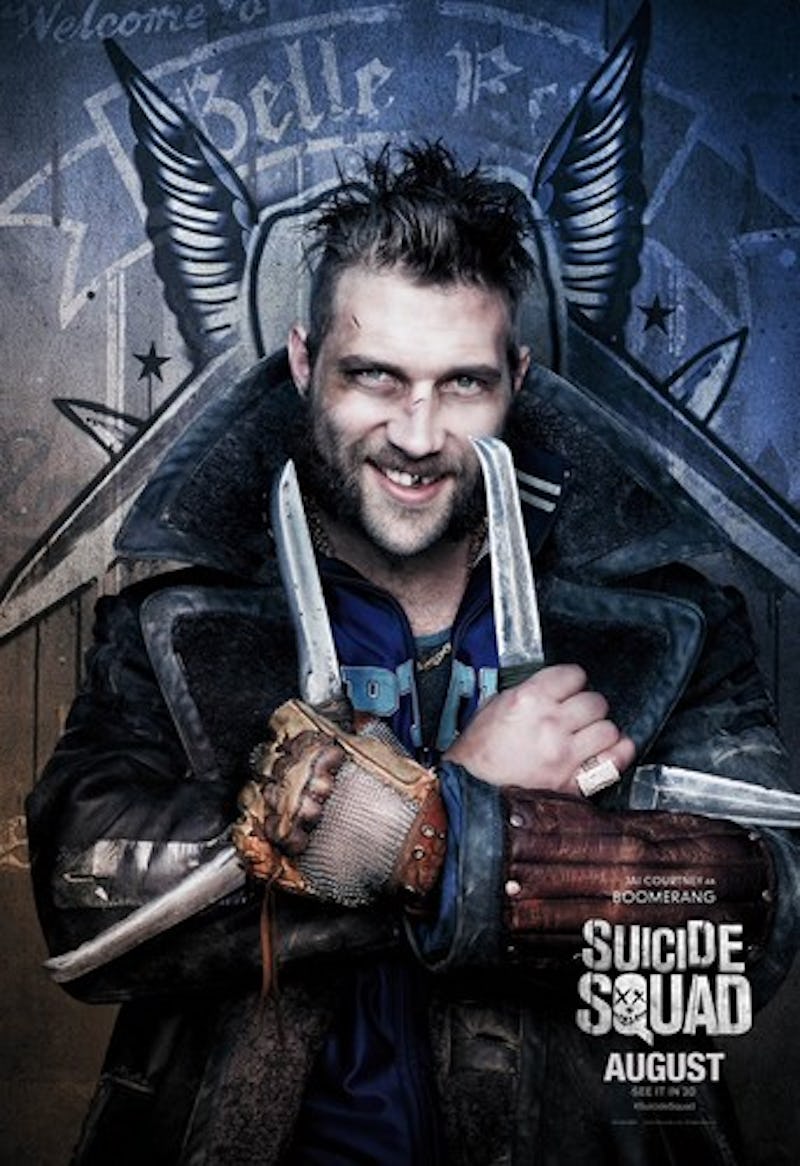 The upcoming Suicide Squad movie is a bit of a different creature. Sure, it's in the DC universe, but unlike the other DC films, Suicide Squad isn't filled with the heroes we all know and love. Instead, it's filled with the villains we all know and love. Some of these bad guys and gals might be more recognizable than others: Harley Quinn, The Joker, Deadshot. Others, like Katana, might be less well-known, but I promise that they are equally as cool and badass — such as the fiery Aussie member of the Suicide Squad, Captain Boomerang, played by Jai Courtney, because Boomerang's powers are awesome.
Who, exactly, is Captain Boomerang, you ask? And what does he do? Well, originally, Boomerang started out as a performer in Australia, with, you guessed it, boomerangs. But then, he was ridiculed by audiences so, like any well-adjusted human, he decided to turn his talent into a criminal career. OK, but boomerangs? Seriously? Yes, seriously. Captain Boomerang doesn't just utilize ordinary boomerangs. In his arsenal, he has boomerangs ranging from bladed to electrified, explosive to combustible. They're deadly boomerangs intended to cause the most damage possible. And while on the surface that doesn't seem that impressive, imagine being able to have perfect aim and hit any target you want to with your electrified or bladed boomerang. Remember, Captain Boomerang is a member of the Suicide Squad for a reason: he's dangerous, bad, and probably more than a little bit crazy.
With a name like Captain Boomerang and powers to match, it might not be such a surprise, then, to know that Courtney was a bit hesitant to play the sassy Aussie supervillain at first. In an interview with Spotlight Report, the actor said this of his supervillain counterpart:
To be honest, when [David Ayer] told me that the role of Captain Boomerang was what he was thinking, I kind of cringed. 'Cause I wasn't a comic book kid. I wasn't familiar with the DC universe and the history of that'. So I knew nothing about it. And I was, like, 'Oh, god, Captain Boomerang…Really?…I really don't know how Australians will react to this.'
It seems that Ayer won Courtney over, however, with his gritty vision for Captain Boomerang. In addition to seeing the star as the boomerang baddie in Suicide Squad fans might be able to anticipate a Boomerang appearance in the standalone Flash movie. After all, the Flash is the nemesis of Captain Boomerang and the Flash makes an appearance in Suicide Squad.
So, even if boomerangs aren't your thing, seeing Courtney take on the outlandish role of the sassy, fiery, and lethal Australian villain might change your mind. Suicide Squad is sure to have a supervillain for everyone.
Images: Warner Bros. Pictures; Giphy