This Is How Much Kylie's "Leo" Matte Lippie Costs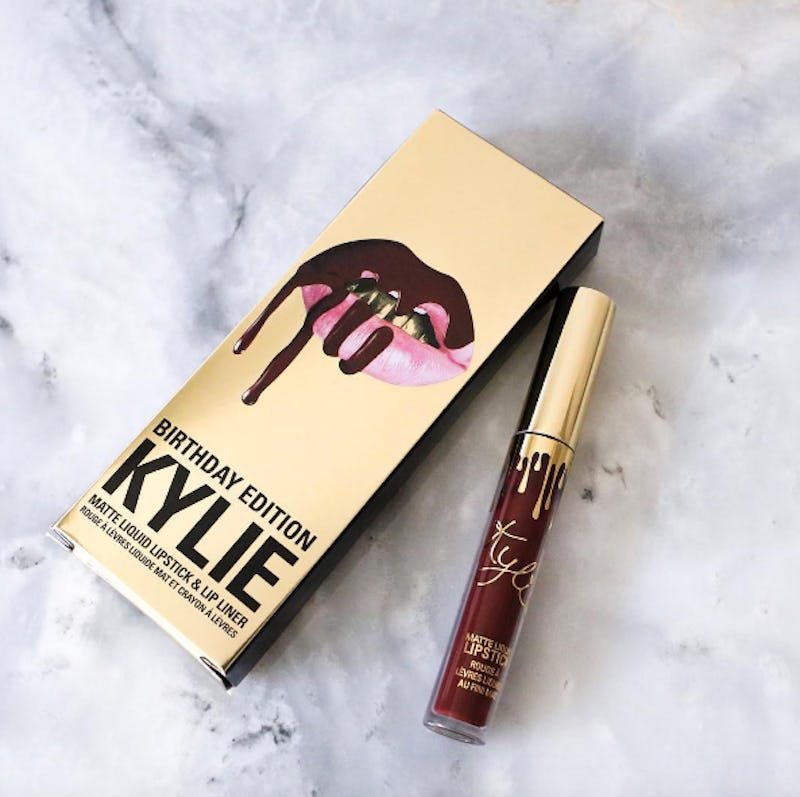 Kylie Jenner has blessed us with a host of new products in her upcoming Birthday Edition Collection, but for a girl who made her name with the now iconic Lip Kits, there's one product I'm already lusting after: The newest matte shade. So how much is Kylie's "Leo" Matte Liquid Lipstick?
Of course, this latest addition to her empire built on — but certainly not limited to — liquid lipsticks isn't the only product worth nabbing in the upcoming release. The newest line from the youngest Jenner, revealed on Snapchat during the afternoon of Jul. 31, features everything from Cremé Eyeshadows to Mini Matte Lipstick Sets, a Kyliner Kit, "Poppin" Lipgloss, and a new coppery and glorious Matte Lipstick named Leo.
Leo in particular caught my eye, and Jenner herself said while previewing the brand new shade on Snapchat that she's been waiting for the perfect time to release a maroon hue. Named after Jenner's astrological sign, Leo is "infused with real gold" much like every other item in the collection, and the packaging is no exception. Unlike many other products in the drop, however, Leo itself isn't a metallic shade, and the striking deep red will be available for $19.
But we don't have long to decide which products to splurge our next pay check on. The Birthday Edition Collection, released in conjunction with Jenner's 19th birthday (of course), drops at 3 p.m. PT on Aug. 1, and will only available for just short of two weeks, up until her official big day on Aug. 10. While counting down the minutes until the 3 p.m. launch, check out details of Jenner's newest matte in the snaps above.
While the creamy metallics, glittering golds, and Metal Matte's are perfect additions to Kylie Cosmetics, the Leo lippie is a guaranteed future classic.
Image: Kylie Cosmetics/Instagram (1)