Kylie's Birthday Collection Sold Out This Fast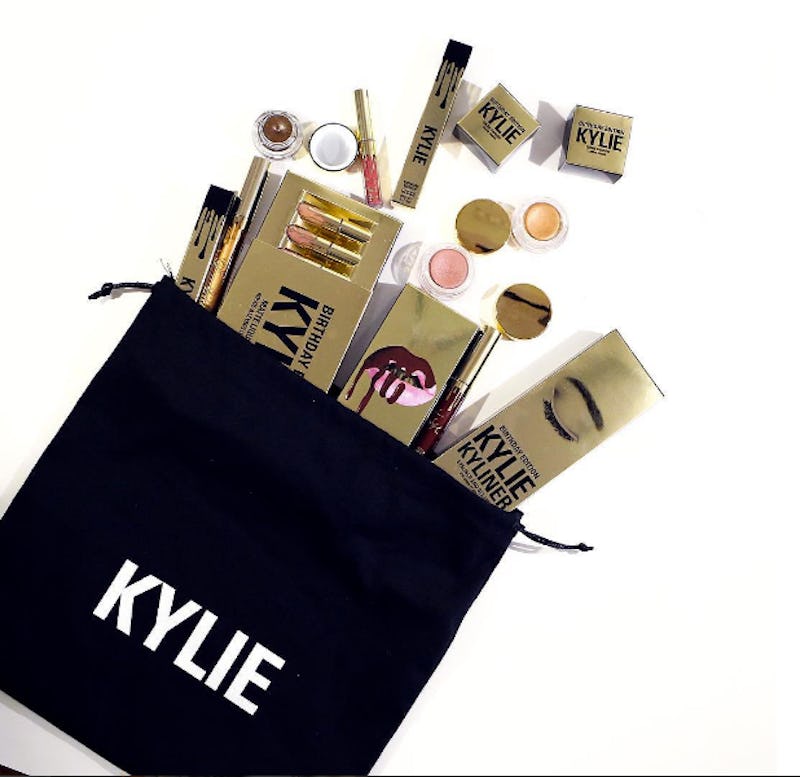 As any lip kit fan knows, Kylie Jenner's cosmetics company is crazy popular and sells out almost any time a new product is launched. But when Jenner rocked the beauty world with her Kylie Cosmetics Birthday Collection announcement Sunday, I knew that this announcement was different than any of Jenner's previous new product launches. And when the Kylie Cosmetics Birthday Collection sold out in less than 30 minutes, I have to say — I wasn't that surprised.
Jenner's birthday collection sold out super quickly for a couple reasons. First of all, it contained all-new products that were different than anything Jenner had sold before, including her KyLiner and creme eyeshadows. Second, the collection is limited-edition, and it will only be available until Jenner's birthday (naturally), which is August 10. Considering those two facts, I'm not surprised that 300,000 of Jenner's fans jumped on her website when the collection went on sale Monday. According to Jenner's Snapchat, it was a new record for the site. And those fans were super loyal and snapped up all the products almost instantly, even the pricey complete Birthday Collection, which sells for $195.
After Jenner's bronze KyShadow palette sold out in less than a minute, I wasn't surprised that Monday's products sold out almost instantly as well.
Jenner was snapchatting the whole thing, and within about five minutes of the products going on sale, almost everything had sold out completely. It started with the complete bundle selling out, then the creme shadows, then the KyLiner.
When I checked the site at 6:05 p.m. EST, the mini mattes I wanted were completely gone, so I assume they were the next to sell out.
In fact, by about five minutes after the new product launch, the only product left was the Poppin gloss.
Jenner posted this Snapchat updating her fans on the status of the products. Can you believe how fast they sold out? I can, but it never ceases to amaze me how loyal Jenner's fans are. And she always somehow seems surprised by it too.
Now fans will just have to wait until Thursday for the next restock.
Image: @kyliecosmetics/Instagram