'Supergirl' Season 2 Will Feature Cat Grant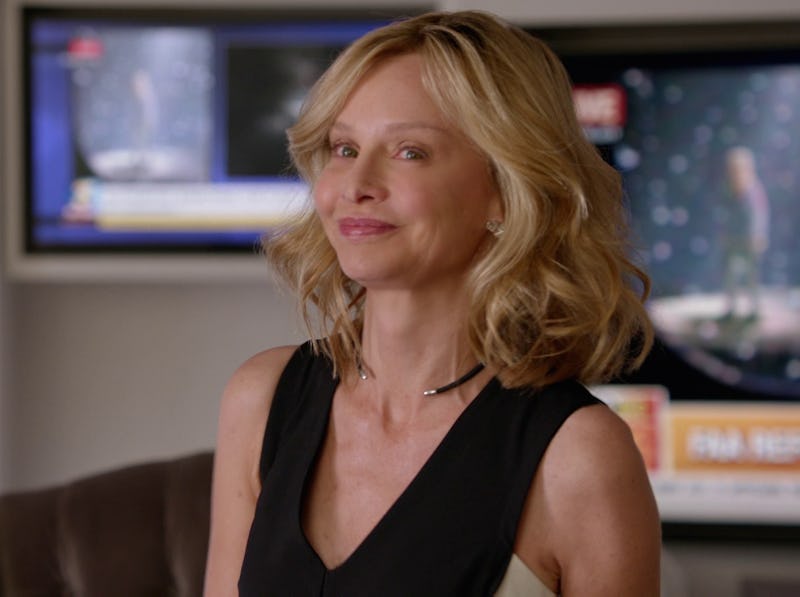 As we march closer and closer to Supergirl 's second season and debut on the CW, we've been flooded with glorious news galore. But, amidst the flurry of fun news, comes a bittersweet update. Kara's ferociously cool boss, Cat Grant, played by Calista Flockhart, will not be a Supergirl series regular for the upcoming season. No, there's hasn't been any major drama behind the scenes. Nor will the show be writing Cat out of the show entirely (thank goodness!). Flockhart's simply getting a reduction in screen time, moving from a series regular to a recurring character.
The cast is growing, notably adding Teen Wolf's Tyler Hoechlin into the mix as Superman. There will of course be the endless story possibilities that come with airing on a network that has three other superhero shows as its mainstays (Arrow, The Flash, and Legends of Tomorrow). We've even gotten our first glimpses from the Season 2 set, where Supergirl and Superman appear united and stronger than ever. It's an exciting time, right? So, where will Cat Grant fit into all this?
Flockhart's recurring role is all down to the logistics of shooting. When Supergirl was stationed at CBS, the show was shot in Los Angeles. Flockhart, an L.A. resident herself, did not want to uproot her family when Supergirl transitioned to The CW and, in the process, switched shooting locations to Vancouver. There's no ill will from Flockhart or the show's top brass, luckily. It's simply a case of Flockhart wanting to provide a stable environment for her family, which I think it totally admirable. It's reported that Flockhart often chooses her projects based on their shooting location for this reason.
Luckily, Flockhart will be flown out to Vancouver when the show needs the ever-brilliant Cat Grant to set Kara straight. There's no denying that Cat Grant was one of the major empowering forces in Kara's transition into her identity as Supergirl. From the moment Cat coined the name "Supergirl" we've watched as Cat channeled her own sense of power, clear vision, and work ethic into advising Kara. Arguably, Cat made Kara (and, in turn, Supergirl) into the focused, confident superhero she is at the end of Season 1. So what effect will Cat's noticeable reduction in screen time mean for Kara/Supergirl?
I think it's safe to say that in Season 2, Supergirl will have more eyes on her than she ever expected. As her global (and maybe even cosmic?) visibility has increases through her exploits, chances are strong that she will be drawn away from the comforts of her office job. As such, Cat may not always be there to regularly counsel her, because Kara will not always be around Cat. This would help explain Cat's recurring status, too. While there's been no word on the precise amount of episodes Cat will be featured in, my feeling is that her time on screen will become more precious than before. I imagine she will show up when Kara is most doubtful of her own abilities as herself or as Supergirl, ready to dole out more mentorship insights to keep Kara on track.
Cat is arguably one of the best parts of Supergirl — I might be biased because I adore powerful female characters — and the thought of her no longer in this superhero's universe is heart-wrenching. I'll be curious to see how Supergirl works around Flockhart's absence. Something tell me we won't notice too much, seeing as we're getting a bevy of new characters to fill that void.
Image: The CW; Giphy (2)