Here's How Long Instagram Stories Last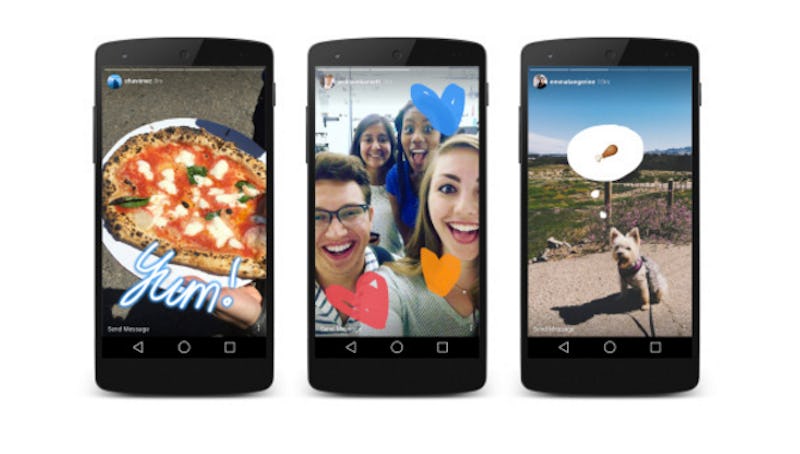 Move over Snapchat! Instagram just released a new feature called Instagram Stories, which is very similar to one of your other favorite photo-sharing app. The update works by letting you post photos and videos from your day that you deem shareable, but not profile-worthy, so you no longer have to worry about annoying any of your followers. The videos and images posted to your story, which appear in a slideshow format, can also be edited to include cute doodles or text on them.
Instagram Stories make total sense. Sometimes you have little moments that you want to share with all of your friends, but they simply don't fit into your profile's ~aesthetic~ that you've worked so hard to maintain. And, sometimes you want to post more often than what we've decided is acceptable for the social media platform. I mean, haven't we all unfollowed someone for posting way too many photos to their Instagram at once? When I studied abroad, I specifically made sure to choose what I posted to Instagram carefully, because even though living in London was super cool, I didn't want to lose followers for posting three different photos of Big Ben. This new update makes sure that you no longer have to worry about losing followers for over-posting.
Along with making over-posting a non-issue, the new feature also eliminates the permanency that comes with posting to your profile. Sure, you can always delete photos, but if you're putting effort into carefully selecting the perfect post, it better be worthy of withstanding the test of time. So, how long do Instagram Stories last anyway? Photos and videos in your Story will disappear 24 hours after being posted, which gives you a clean slate every day to post new content.
Stories, which don't appear on your profile, can also be shared with specific people and hidden from others. So, if your ex still follows your Instagram and you don't want to share special moments from your day with them, then you can totally make it so they can't see your Story.
The feature will begin rolling out globally on August 2 so prepare yourself for a whole new dimension of photo-sharing on Instagram. Now you can post that perfectly staged photo of that cake you bought at your local bakery and the video of you eating it too.
Images: Instagram