Instagram's New Feature Is Just Like Snapchat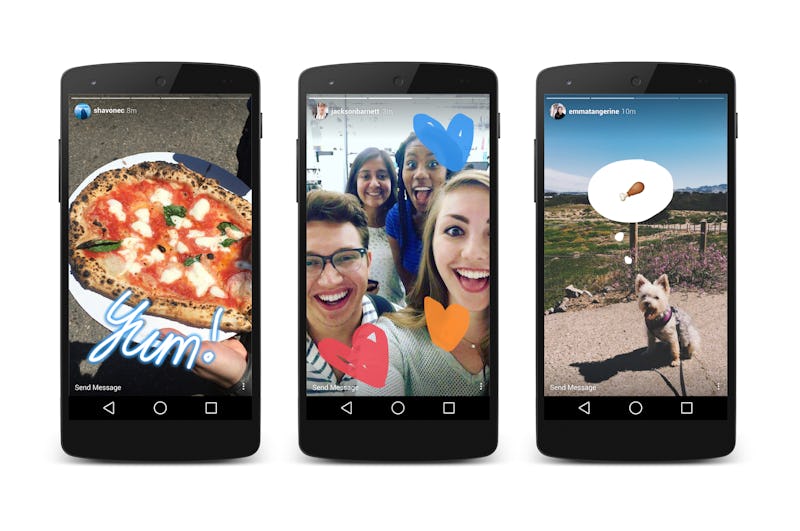 Instagram has beautifully struck a balance between staying hip and fresh while staying true to its goal: Letting us share the fun and interesting moments in our lives through visual means. And the photo-sharing app's latest update is continuing to do just that — starting Aug. 2 (today!), Instagram will be rolling out Instagram Stories, a new feature that allows you to compile as many moments from your day as you'd like into an awesome slideshow, telling people your own personal story in a brand new way.
Interestingly, I think this feature solves the problem of oversharing on Instagram — nobody likes that person who clogs their newsfeed with 20 pictures they took of the sunrise, but now you can combine all those photos into one story and share that instead. You can even decorate it with text and drawing tools — and in a cool little twist, Instagram Stories disappear after 24 hours, so it doesn't permanently stay on your profile page or in your friends' Instagram feed. In that respect, the new feature is somewhat similar to Snapchat.
To view other people's stories, look to the bar at the top of the Feed. If they've got a new story to share, a colorful ring will encircle their profile photo. Instagram Stories allows you to go forward and backward within a story to view it at your own pace, and also swipe to go to another person's story. Here, take a look at Instagram Stories in action:
One thing making Instagram Stories different from regular posts is that you can't comment on or like them, but other than that, it's pretty straightforward. And it follows your privacy settings: If your account is private, only friends can see your stories. But fret not; if there's someone who follows you that you'd still like to hide the story from, you can do that too! It's the best of both worlds, really.
Social media platforms like Instagram are continuing to look for ways to offer a more personalized, unique experience for users, and Instagram Stories gets the job done. It gives a heartbeat to what would otherwise be a static post, putting a little life in the moments you want to share.
Look for the update for iOS and Android in your Instagram within the next several weeks, and visit Instagram's blog to learn more about Instagram Stories.
Image: Instagram