El Diablo In 'Suicide Squad' Is A Hollywood Vet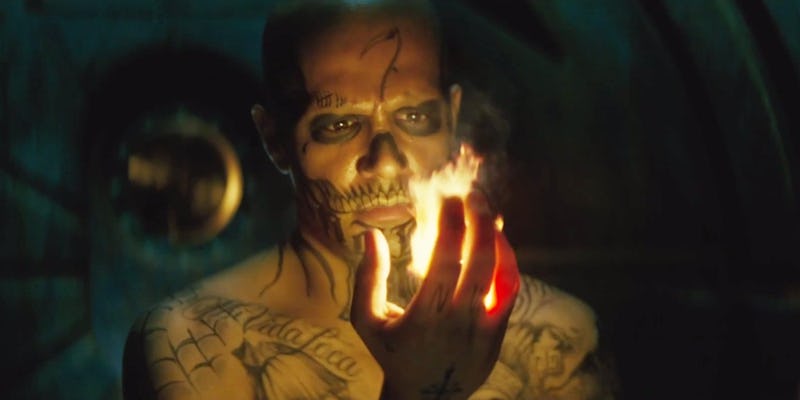 The release of Suicide Squad has been highly anticipated for many reasons, one of which is the movie's star-studded cast. From Jared Leto to Margot Robbie to Will Smith, the cast of Suicide Squad includes a healthy serving of A-listers. But there's one face in the squad that might not look quite as familiar as the rest, and it's that of El Diablo. So if you're wondering who plays El Diablo in Suicide Squad and where you know him from, I've got you covered.
The actor's name is Jay Hernandez, and if you don't recognize him at first, it's probably because of his character's intricate face tattoos. But Hernandez has actually been active in Hollywood for 15 years, and you've likely seen some of his work. In fact, the actor is in another movie that is currently in theaters: Bad Moms. No, seriously, Hernandez makes an appearance in the comedy as a hunky widow who serves as eye candy to all the moms. It's probably the only instance in which the Venn diagrams of Suicide Squad and Bad Moms intersect, but it's some funny synchronicity, and it speaks to Hernandez's versatility as an actor. In case you can't remember the other places that you've seen Hernandez's face, here's a list of some of his roles to jog your memory.
Crazy/Beautiful
Hernandez starred opposite Kirsten Dunst in this 2001 drama. His character Carlos was a working-class boy with big dreams who fell in love Dunst's character Nicole.
Ladder 49
Hernandez played a rookie firefighter in this movie about the deep bonds —and great sacrifices— that are made by those in the firefighting profession.
Friday Night Lights
This famous 2004 film featured Hernandez as a a determined, hardworking high school football player named Brian Chavez.
World Trade Center
Hernandez portrayed a slain PAPD officer, Dominick Pezzulo, in this emotional film based a true story involving 9/11 and the collapse of the World Trade Center.
Hostel
This infamous gory flick found Hernandez as an unassuming college student who ended up in a deadly situation while traveling abroad.
Max
One of Hernandez's most recent roles was of a Marine sergeant in 2015's Max, which told the fictional story of a courageous military dog.
So even though Hernandez is debuting two new roles in theaters right now, he's no rookie when it comes to show business. Enjoy watching the actor as a supervillain in Suicide Squad, and if you're so inspired, you can swing by Bad Moms afterwards for a Hernandez double feature.
Image: Warner Bros