Let's Recap Jared & Ashley's 'BiP' Relationship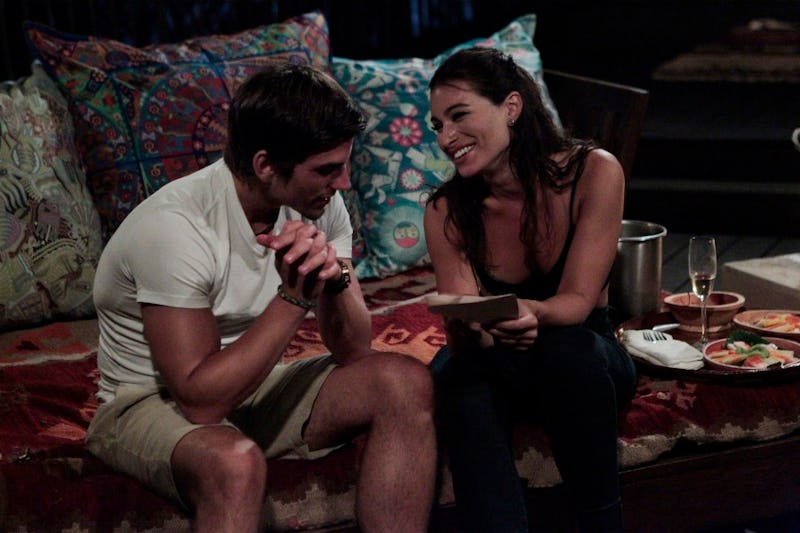 Well friends, it's that time of year again! Time for all our Bachelor and Bachelorette faves to head to paradise and make use of their newest chance at love while we watch from home hoping for a happily ever after (or some drama). Now, while you might need refreshers on each contestants' respective Bach seasons, there's also plenty that went down in paradise last year — specifically between Jared Haibon and Ashley Iaconetti. So, what happened with Jared and Ashley during Bachelor in Paradise Season 2? Well, this story tends more toward drama than a happily ever after, though hopefully that will change in Season 3.
First, a bit of backstory on Jared and Ashley: Jared was one of the fan-favorites from Kaitlyn Bristowe's season of The Bachelorette, but was sent home in week 7; Ashley was a contestant on Chris Soules' season of The Bachelor where she established her reputation as a crier and was eliminated in week 6. Additionally, much of Ashley's storyline on her season of The Bachelor revolved around the fact that she was a virgin at the time, which was carried over into Bachelor in Paradise Season 2 — as well as plenty of GIFs online. That brings us to paradise so let's dive in!
Jared and Ashley both joined Season 2 in the first episode as the initial group of singles in paradise and Ashley set her eyes on Jared — she wanted him to be the Aladdin to her Jasmine! In fact, when she received the first date card, she asked him to go with her and he accepted. However, the following week when Jared received a date card, he invited Clare rather than Ashley — but Ashley ended up giving him her rose anyway because she was still invested in him. Also because Clare was officially done with Bachelor in Paradise.
Over the next few weeks, Jared and Ashley continued to hang out, but it became painfully obvious that Ashley was more invested in the relationship than Jared, who seemed to want to keep his options open while still getting over Kaitlyn. Still, Ashley wrote a letter to Jared that contained all her feelings and invited him on a fantasy suite date, which he accepted. Although a big deal was made about whether she'd lose her virginity to Jared, they decided not to have sex. Later in that same episode, he broke up with her and both Jared and Ashley decided to leave paradise.
That's the cliff notes version of their relationship, but trust me when I say there was also plenty of crying and jealousy involved as well. Jared was a sought after suitor on Bachelor in Paradise and Ashley seemed to be constantly fighting for his attention. Now, with the pair back in paradise it seems they're both looking for another chance at love — though not necessarily with each other.
The Bachelor in Paradise Season 3 promo hints at Jared starting a relationship with Caila Quinn, while Ashley falls for Wells Adams. Does that mean the drama is over? Probably not, but hopefully Jared and Ashley have a better chance at finding their happily ever after, which the hopeless romantic in me is extremely happy to see.
Images: Rick Rowell/ABC; bachgifs/Tumblr