'Sherlock' Fans Haven't Seen A Villain Like This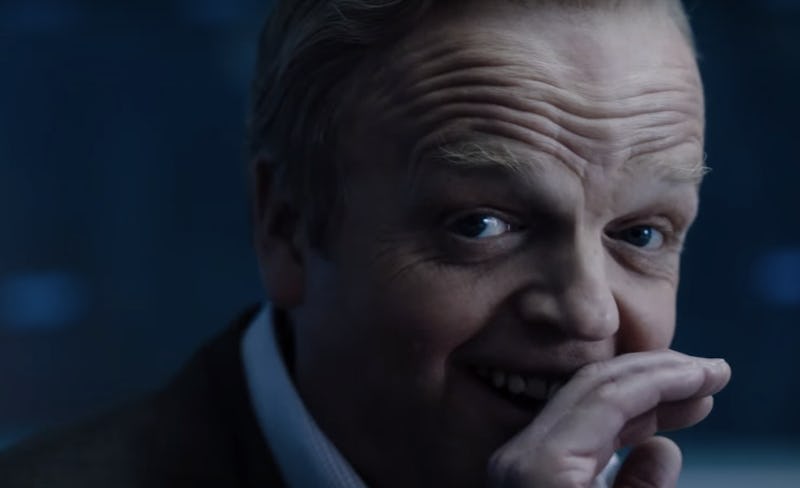 Being an avid Sherlock fan is not an easy task. With yearly gaps between short seasons of hour-and-a-half long episodes, it's hard to keep one's mind focused on the characters and plot lines in Sherlock Holmes' (played by Benedict Cumberbatch) life. However, this past year has been brighter than most. However, with the Sherlock: The Abominable Bride holiday special premiering on January 1, 2016 and the premiere of the first teaser for Sherlock Season 4 at San Diego Comic-Con in July, there's a shorter gap than usual between Sherlock updates. Now, thanks to that small taste — and with more episodes of the BBC series not set to premiere until 2017 — we're going to need as much Sherlock as possible to hold us over. Thankfully, there's some news that might do the trick: According to a new interview with Collider, Season 4 of Sherlock will introduce it's creepiest villain yet.
While, yes, Toby Jones' Sherlock character has yet to be officially named, that isn't stopping both Cumberbatch and the showrunners of the series, Steven Moffat and Mark Gatiss, from spilling some details on who it is that we're dealing with. And, basically, with Jones' character on the scene, prepare yourself to question everything you've ever known about the villains of Sherlock up until this point. According to Moffat in Collider:
"He's the darkest villain we've had. There was always something charming and engaging about Moriarty. There was something fascinating and actually amoral, rather than immoral, about Charles Augustus Magnussen. This guy is the purest evil. Sherlock is actually appalled by him. He's the most evil villain we've had. I don't think that when you see it, you will disagree. He's horrific."
However, as Moffat and Gatiss were sure to point out, it's not just Jones' creepiness on the outside that sends chills down the famed detective's spine. It's how deep the evil runs in Jones' new villain that should be of the utmost concern. "He's an avuncular, funny seeming man with terrible teeth," Gatiss said. "We've given him terrible teeth, which are symbolic of the rot inside him. It's a great complex, shaded character." Yep, he's evil in his core. And nothing about him is redeemable in the way it's been for the villains who received some sort of personal gain from their actions in the past.
So, despite how incredibly exciting this news is, we might just need the time to prepare ourselves for Jones' introduction. Between these comments, what we've seen in the teaser itself, and just watching Jones' past roles, I can only imagine the overwhelming extent of his character's creepiness. And remember: "Where there is no imagination, there is no horror."
Images: Sherlock/YouTube