Mark Your Calendars For 'Fantastic Beasts 2'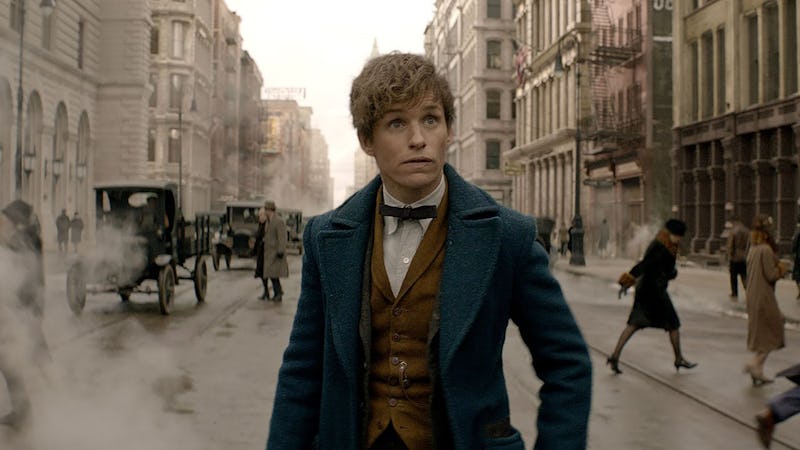 After hearing the news I'm about to relay to you, it's OK if you feel the need to utter out loud "How did I get so lucky?" or "Why is this world so good to me?" or any iteration of that question. You might have a lot of feelings about the Fantastic Beasts and Where to Find Them 2 premiere date being set, because you are only human. That being said, please go ahead now and alert your friends and family that you might be absent for a few hours on November 16, 2018. Warner Bros. Pictures confirmed Wednesday that the Fantastic Beasts and Where to Find Them sequel will premiere on this fated day. (Also, J.K. Rowling will be writing the script and David Yates will be directing, so rest assured it's going to be worth your absence from social activities.) Now, on to the next thing at hand: what will the second installment in the series be about?
With the release date announced, it's time to start any and all mental preparations. Which to me — and hopefully you, dear reader/fellow fan — means a great deal of speculation mixed with equal parts enthusiasm for Newt Scamander's new adventures. Even though there are months (Fantastic Beasts and Where to Find Them comes out November 18 of this year) standing between us and seeing those beasts on screen for this time, it doesn't matter. It's never too early to ponder an upcoming movie's plot. Especially when that movie rests in the hands of J.K. Rowling's genius brain.
According to a Warner Bros. statement, Fantastic Beasts 2 will move "deeper into an increasingly dark time for the wizarding world, where Newt and our other heroes have to decide on their allegiances."
Fantastic Beasts and Where To Find Them 1 follows Newt in 1920s New York City, decades and decades before Harry Potter gets told he's a wizard. Newt makes his way to the city for a magic conference, suitcase of beasts in hand, only to find that those beasts want out. As the Billywigs, the Thunderbirds, the Demiguises, and the Occamys, wreak havoc on the Big Apple, Newt tries to locate the creatures and get them back without upsetting the wizarding world and the "No-Maj" muggle world. One of the biggest points of contention in the first film will be this relationship between the two differing worlds, and, as highlighted in Warner Bros. statement, it appears that this won't be coming to any conclusions in the first film.
As for the sequel getting darker, that's par for the course in both the Harry Potter books and director David Yates's films, who's last four HP films were treated with an increasingly somber tone. "Deciding allegiances" seems like too massive a statement to try and unpack, but we can expect Newt and the characters to be tested in larger and more unexpected ways.
And for setting? Let us also forget that Newt and his fantastic beasts could really go anywhere, so this sequel could take them to lands other than America. The destinations are endless. So are the beasts.
Bring them both on, I say.
Images: Warner Bros. Pictures; Giphy (3)