The 'Suicide Squad' Post-Credits Scene Is Big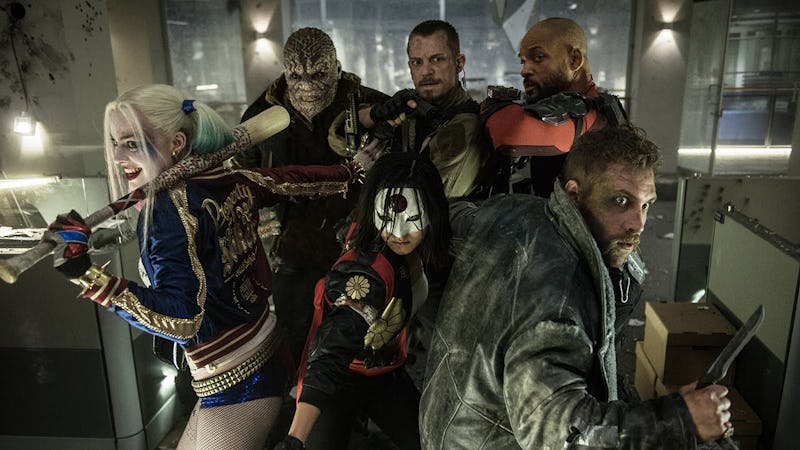 After many months of anticipation, the newest movie featuring DC characters, Suicide Squad, is finally hitting theaters. It feels like we've been talking about Harley Quinn, Deadshot, and the rest of the villainous crew forever, but now, we actually get to see them on-screen taking charge and breaking bad. The new movie, though, does double duty, not only introducing viewers to the fun-filled escapades of the Squad but getting them excited for another DC movie — 2017's Justice League. The Suicide Squad post-credits scene (spoiler alert!) sets up Justice League in a major way, and it'll get you pumped for next November's big release.
So what exactly happens in that big Suicide Squad post-credits scene? Let me explain — but, as said, make sure you're fine with reading major movie spoilers first. All good? OK. So, without further ado: Suicide Squad ends on an ominous note, with the Joker breaking Harley out of jail. The two of them seem like they're going to go off and cause serious chaos, but whatever they decide to do likely won't be revealed for a long time, until any Suicide Squad sequel — or Harley Quinn spinoff — comes out. So it makes sense, then, that the movie's post-credits scene doesn't hint at what's to come for the Joker and Harley, but instead, sets up a DC movie fans know for sure is coming out relatively soon: Justice League: Part 1.
In the post-credits scene, Amanda Waller (Viola Davis) is seen meeting with Bruce Wayne (Ben Affleck). She asks for his protection, due to the fact that she's now a basically a target for villains because of her involvement with the Suicide Squad. He agrees, but in return, he makes Waller give him files on several metahumans — the people fans will recognize as The Flash, Aquaman, and more. He takes the files, but not before telling Waller to "shut it down," presumably talking about her Suicide Squad program.
It's a solid post-credits scene, although it doesn't exactly broach new territory; there was a Justice League set-up at the end of Batman v Superman, too. Yet for anyone counting down the days until Superman, Batman, Wonder Woman and the rest get together, the Suicide Squad post-credits scene will do the trick of getting you pumped for the upcoming film.
Images: Warner Bros; Giphy