If You Give Donald Trump A Cookie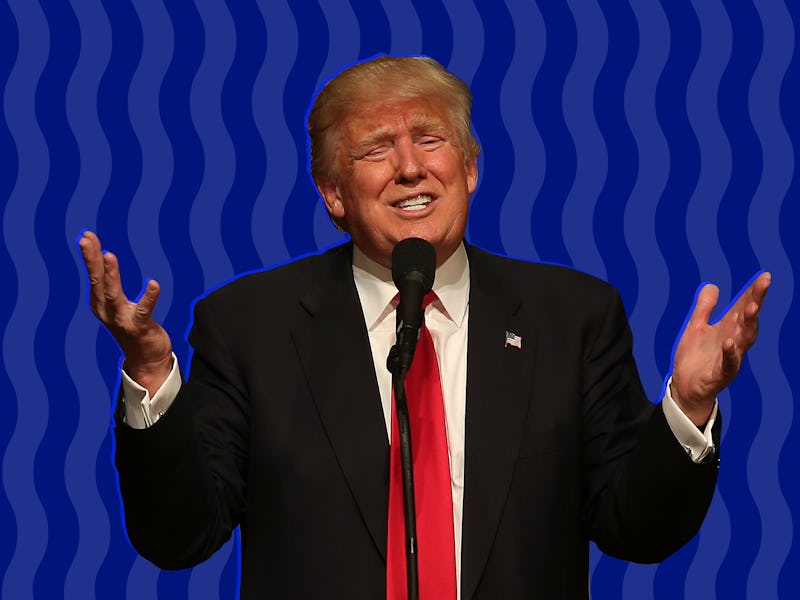 The well-known children's book If You Give A Mouse A Cookie, by Laura Numeroff, illustrates the virtue of identifying and reining in manipulative behavior so as to not create a monster. It's a great story — for children. Ironically, though, the theme is especially pertinent when it comes to the current Republican presidential nominee. Paul Ryan and John McCain are (for now) standing behind their party's nominee, despite all of his horrendous gaffes. But Donald Trump won't endorse Ryan or McCain in return during their upcoming reelection campaigns.
You know If You Give A Mouse A Cookie; it's cautionary tale about behavior that snowballs out of control. If you give a mouse a cookie, he'll want a glass of milk, then a straw, then a mirror (to make sure he doesn't have a milk mustache), scissors (gotta cut his hair while he has the mirror), a broom (for cleaning up the hair), after which he'll be tired and need to take a nap, so he'll need a story and to draw a picture, which you'll need to hang on the fridge, which reminds him of milk, with which he'll need a cookie. The story is meant to encourage grown-up behavior — knowing when to stop the mouse so that the behavior doesn't get out of hand. But Ryan and McCain seem to have missed that day in class. Despite having to repeatedly condemn the candidate, the two have refused to withdraw their endorsements.
Some in the party have "followed their conscience," as Texas Sen. Ted Cruz instructed during his Republican National Convention speech. This week, Congressman Richard Hannah, a Republican serving New York's 22nd District, went as far as to cross party lines and endorse Hillary Clinton. So far, though, Ryan and McCain are sticking by The Donald. Meanwhile, Trump isn't returning the favor. Not only that, but he also seems to be punishing the prominent leaders of his party for not being more excited about him as the potential next president.
At this point, Trump has refused to endorse Ryan. He's even offered some support toward Ryan's primary opponent, Paul Nehlen, saying he's "running a very good campaign," according to a Washington Post interview. It looks as though Trump is even spitting Ryan's own words back in his face. When Ryan was on the fence about endorsing Trump, he said "I'm not there right now." The GOP nominee told the Washington Post "I'm not quite there yet" when it came to endorsing Ryan.
Even after Trump has spit outrageous insults about veterans, gold star families, Purple Heart recipients, and McCain — belittling his service to our country, saying, "He's not a war hero. He was a war hero because he was captured. I like people who weren't captured" — the senator from Arizona has continued to endorse the GOP nominee. But, perhaps because McCain's primary opponent, Kelli Ward, has been more excited about standing behind Trump, he's saying McCain hasn't done enough for veterans, so he won't offer his endorsement as of now.
If you give Donald Trump a riled-up platform, he'll win the primary, and when he wins the primary, he'll be the nominee, and when he's the nominee, he'll need your endorsement, and when you give him an endorsement, he'll want you to like it, or else he won't endorse you back, and when you say you like it, he'll want the White House, and when he gets the White House, the country will have one helluva problem that milk and cookies won't solve.
Image: Bustle/Dawn Foster