Jordan Rodgers Doesn't Have A Dallas Job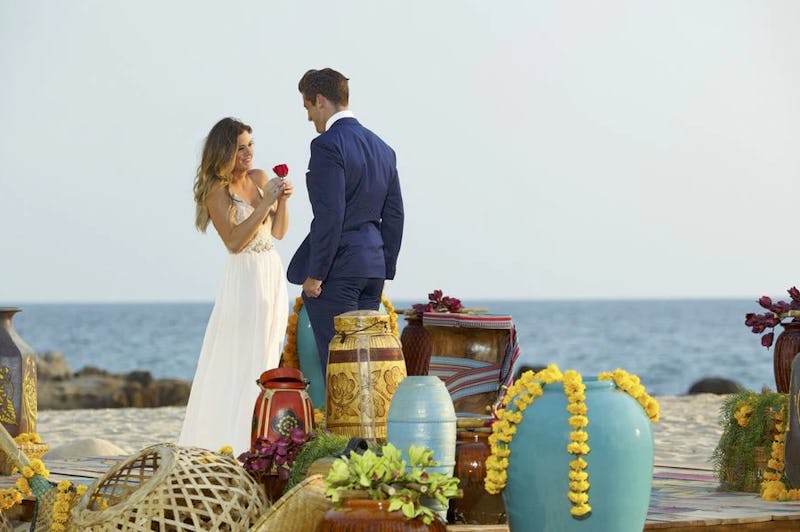 In Kindergarten, we all knew the rhyme: First comes love, then comes marriage, then comes the baby in the baby carriage. But, in 2016, almost anything can come after "sitting in a tree." There's often the added step of moving in together. Then there are more complications because of careers. Add in reality TV, and the entire modern process is accelerated. Just look at the most recent couple from The Bachelorette. JoJo Fletcher and 25+ guys sitting in a tree, K-I-S-S-I-N-G, first comes getting engaged to Jordan moments after breaking up with Robby, then comes moving in together in JoJo's hometown of Dallas, then… who knows? So, what will Jordan Rodgers do in Dallas, anyway?
In the After the Final Rose special, the couple announced that they bought a house together in Dallas. And, the move has been making news as the very public couple has been doing their rounds with the media. JoJo and Jordan appeared on Jimmy Kimmel Live!, where they discussed house hunting and furniture co-mingling. After a cute back and forth about whose bed was going in the new house, JoJo reminded her fiancé and Kimmel, "happy wife, happy life." Fort Worth's Star Telegram also reported that "Dallas is home" to JoJo. "My entire family is there. My work is there. If I had to pick up and move, I would do anything for love and for my relationship," she told the paper. "But at the end of the day, it made sense and it worked out that Jordan was able to come. And if we're planning a wedding, I need my family's help!"
In the same piece, Jordan revealed he had not previously spent a lot of time in Dallas, but was excited about the move. JoJo added that she couldn't wait to show him the city and introduce him to Tex-Mex.
But, after the couple has settled in to their new home and the person who draws the short straw gives their bed to Goodwill, what will Jordan be doing in Dallas? We know JoJo is an established real estate developer with family in town, but what does the new Texan have planned?
It seems the ex-pro football player may have another TV gig in his future. Jordan recently accepted a job based in Charlotte, North Carolina with SEC network, which has some fans curious about the Dallas move. Details about this position are TBD. Jordan has been very quiet and humble about the new job. The announcement actually came as a congratulatory tweet from sports analyst Clay Travis. With no details about the new gig, it is easy to speculate that the Charlotte location isn't the be all, end all. When it comes to sports hosting and reporting, there is a lot of travel involved, making a home base flexible. And, there is often a lot of time off outside of football season.
While Jordan's new gig with SEC network will surely keep him busy, the athlete also has a side hustle that he is taking with him from California to Texas. According to the International Business Times, Jordan is also a nutritional coach. His company, MetPro, helps professional athletes, celebrities (like Kelley Jakle and Brittany Snow), and regular people train and "diet and train so they can reach their weight loss goals."
With an engagement, impending wedding, move, and new career opportunities, it seems that Jordan Rodgers is a pretty busy guy. So, best of luck to the new couple. I can't wait for updates from their busy new Dallas lives, and hopefully there will be a televised wedding in the near future.
Images: Matt Klitscher/ABC