'Bach's JoJo & Jordan Were Always The Perf Couple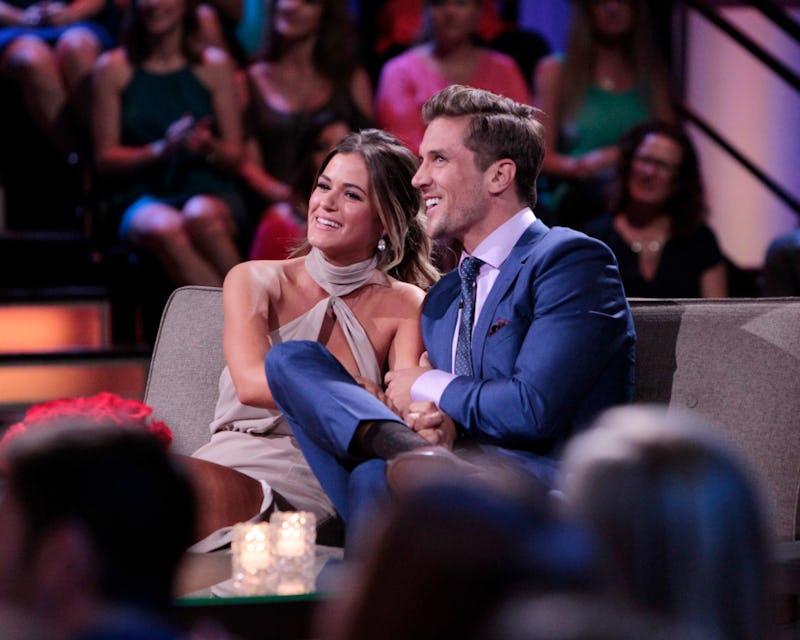 After a season of group dates, two two-on-ones, rose ceremonies, and entirely too much Chad drama, The Bachelorette Season 12 has come to an end and JoJo Fletcher has chosen her winner: Jordan Rodgers. The two hit it off night one when Jordan was the first suitor to step out of the limo and later received the first impression rose. Now that the finale has aired, we can all admit to knowing these two were meant to be all along and I've assembled 11 pictures of JoJo and Jordan that prove they were always the perfect couple.
Sure, there are fans of The Bachelorette who think JoJo should have chosen one of the other suitors — I know there are strong Team Robby and Team Luke contingents — but if all of us in Bachelor Nation are honest, it's probably always been Jordan, especially since night one. JoJo even told People in her post-Bachelorette interview that she knew right away she could fall in love with Jordan; she even said, "It was always Jordan" when talking about who she couldn't imagine saying goodbye to. I can't speak for all of Bachelor Nation, but I'm sure many viewers at home picked up on that as well. So, in honor of the happy Bachelorette couple, here are 11 pictures that prove it was always going to be JoJo and Jordan in the end.
1. The First Night
See how easy they are together on night one? Night one! There's a reason Jordan became a clear frontrunner so early on.
2. The First Impression Rose
In another photo from the first night of The Bachelorette, JoJo and Jordan look comfortable together, which may be helped by the fact that she's giving him the first impression rose.
3. The Mock Proposal
Look, we all know Jordan's hair has been a hot topic of discussion on this season of The Bachelorette, but he didn't seem to mind messing up his 'do for JoJo — even when other contestants thought the date was rather silly.
4. The Press Conference
Again, JoJo and Jordan just seem to be comfortable around each other, even while taking their group date seriously.
5. The Easiness
You can tell so much about a relationship from body language, and JoJo leaning into Jordan as she's laughing says a lot.
6. The Goofiness
In the Bachelorette finale episode, both Jordan and JoJo referred to each other as their best friend, and you can totally see it in their ability to be goofy with each other.
7. The Drinking of Feet Grape Juice
Does anything scream perfect couple more than drinking the juice you and your partner stomped on with your feet? Probably, but the trust JoJo and Jordan showed in each other's ability to keep their feet clean is pretty monumental.
8. The Obvious Passion
Listen, I may be the first to point out Jordan's habit of attempting to push JoJo up against walls to kiss her doesn't look super great on camera (it's a little awkward, let's be honest), but I can admit it certainly speaks to the passion between the two.
9. The Look
Get you a partner that looks at you the way Jordan looks at JoJo in this photo. Do it.
10. The Engagement
I totally understand why Bachelorette viewers may have hoped JoJo chose someone else, but watching both their hands shake in excitement as Jordan put that Neil Lane ring on her finger was pretty telling of their feelings.
11. The Selfies
In the short time since JoJo and Jordan officially debuted as the latest Bachelorette couple, there have already been plenty of selfies circulating of the pair on social media — including this adorable one posted by Jordan himself.
So, whether or not you agree with JoJo's decision at the end of this season of The Bachelorette, I think everyone in Bachelor Nation can agree that these two turned into the heart eyes emoji the second they met — and there's no coming back from the heart eyes emoji.
Images: Rick Rowell, Carl Costas, Matt Klitscher/ABC