'Bach's JoJo & Jordan Could Make It Work Long Term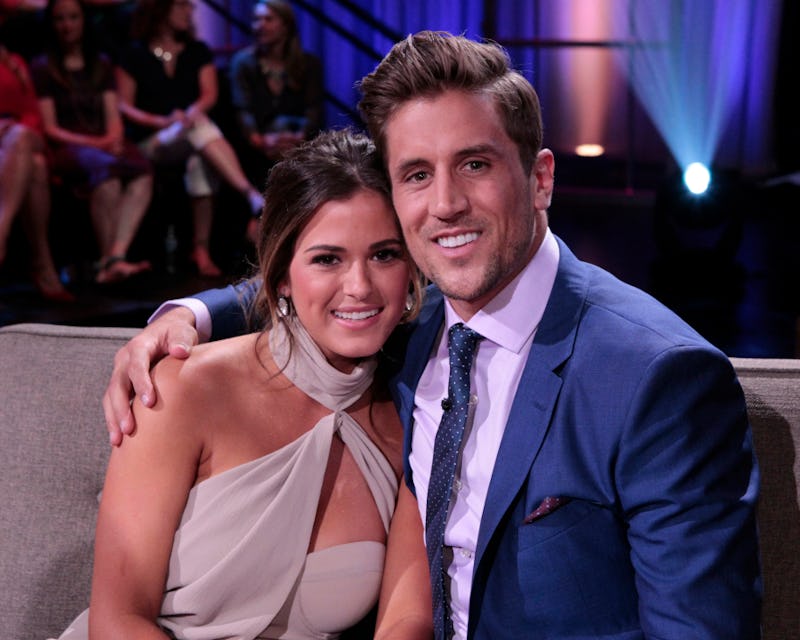 Well, that's it folks, The Bachelorette has come to an end and JoJo Fletcher has made her final decision, offering the last rose of the season to Jordan Rodgers. Of course, while Jordan may not be the man some fans in Bachelor Nation have hoped JoJo would pick at the end, the decision was ultimately hers to make alone. Still, after watching JoJo build these relationships, it's difficult as a Bachelorette fan not to speculate how it will continue to play out. So, will JoJo and Jordan last after The Bachelorette ? That's the big question on this week's installment of Bustle's Bachelorette podcast.
Well, there were sparks between JoJo and Jordan from the very beginning — he was the first one out of the limo, they kissed on the first night, and she gave him the first impression rose (not to mention she complimented his butt, which is kind of a big deal). Sure, JoJo seemed to be conflicted about her decision in The Bachelorette finale, she even told her family about going back and forth between choosing Jordan or runner-up Robby Hayes. But, no matter the other men JoJo dated while on the show, she eventually chose Jordan, and it seemed to be a relationship that the pair started building from night one. On this episode of Will You Accept This Podcast?, Romper TV Editor Allison Piwowarski and Bustle Entertainment Editor Kelsea Stahler discuss JoJo and Jordan's relationship and whether this Bachelorette couple will make it work.
Still, The Bachelor and its spinoff series, The Bachelorette and Bachelor in Paradise, don't necessarily have the best track record of couples staying together forever following the end of their respective shows. Plus, rumors that circulated the Internet prior to The Bachelorette finale and After the Final Rose claimed JoJo and her winner had already split before the episodes aired.
That said, speculation about whether the show's star and their winner remained together once filming wrapped always seem to circulate around finale time — and even after. It seems like there are always rumors about the state of previous Bachelorette star Kaitlyn Bristowe's relationship with her winner Shawn Booth, though the pair are still currently together. Additionally, couples from recent seasons of The Bachelor (Ben Higgins and Lauren Bushnell) as well as Bachelor in Paradise (Jade Roper and Tanner Tolbert) — not to mention past couples like Sean Lowe and Catherine Giudici — are still together, so there's certainly proof people can find love in ABC's dating franchise.
Plus, in their flurry of press following The Bachelorette finale, JoJo and Jordan revealed how they spent time together after filming wrapped, basically just Netflix and chilling. They also did well at Jimmy Kimmel's "Fiancé My Name" game. The pair seem to be enjoying a fairly normal relationship post-Bachelorette; they're even moving in together in Dallas! So, it could be that JoJo and Jordan have built a relationship that will last in the long haul. Or, it's possible that they'll break up in the next year. Either way, it's between JoJo and Jordan — though, if they choose to share details, I'll certainly be listening/reading.
For everything Bachelor Nation, check out previous episodes of Bustle's Bachelorette podcast.
Images: Rick Rowell/ABC; Giphy