Michael Phelps' Under Armour Ad Is Top-Notch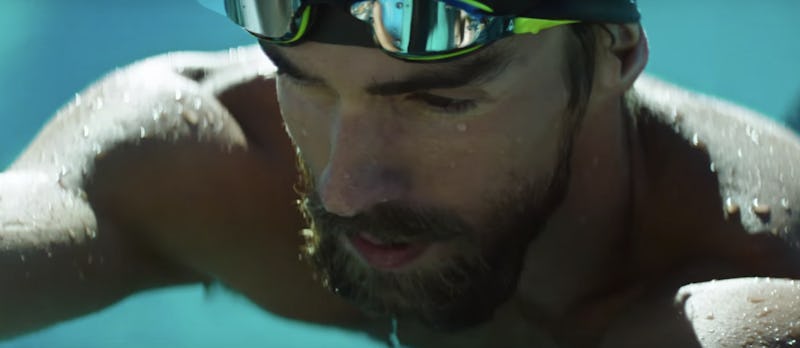 In 2012, Michael Phelps won the title of the "most decorated Olympian of all time." With 18 gold medals and a total of 22 Olympic medals to his name, U.S. Olympic swimmer Phelps has amazed audiences around the world with his speed and precision in the pool. Following his initial retirement from the sport, Michael Phelps has returned just in time to qualify and compete in Rio de Janeiro's 2016 Summer Olympics. Phelps' Olympics-inspired Under Armour commercial is setting the stage for his return. It features "The Last Goodbye" from the indie rock band, The Kills, as the soundtrack to his journey, a song which makes it clear that Phelps is going for the gold once again. This will be the 30-year-old swimmer's official last time swimming on the Olympics stage, you guys, so you know it's going to be a good one.
The song's lyrics in the advertisement highlight Phelps' past successes with lines like, "I won't forget, I swear. I have no regrets for the past is behind me. Tomorrow reminds me just where." This motivational message not only expresses the pride the swimmer has for what he's achieved so far, but it also briefly alludes to not knowing what tomorrow will bring. So, you know, it's the perfect song to underscore his intention to work just as hard for the gold the second time around as he did in the past.
But even beyond alluding to Phelps' impressive past, the lyrics also say, "Can't quite see the end." That sums up the swimmer's need to give the sport one last shot before he's physically forced to retire. In doing so, the song causing chills to run up and down your spine as the anticipation for the games only gets stronger.
Phelps is set to compete in three different Olympic events in Rio — including the Men's 100m butterfly, Men's 200m butterfly, and the Men's 200m individual medley. That gives him three more chances to win the gold in those categories, unless he ends up qualifying for further races as the games progress. Even though he's got more than enough gold to please anyone at this point, his training for the games — as shown in the Under Armour commercial — has remained no less intense. It's time for Michael Phelps fans to gear up for some of the most heart-pounding races of the swimmer's life.
Images: Under Amour/YouTube