People Are Creating "Pokemon Go" Frappuccinos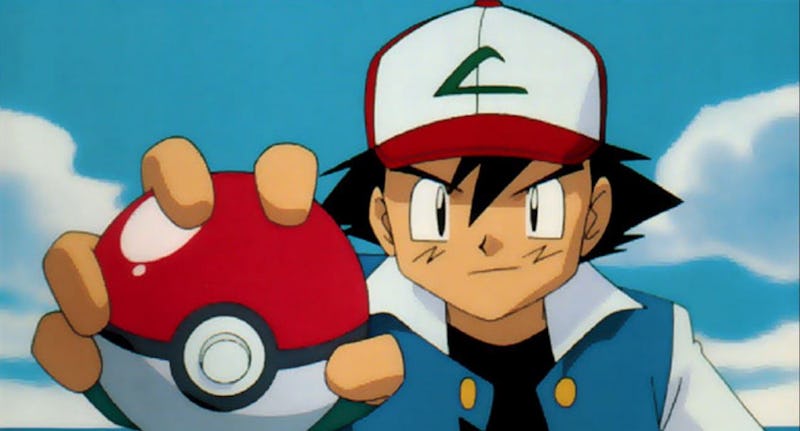 Can't get enough of your "Pokemon Go" obsession? Good news! Now you can quite literally consume it, because "Pokemon Go" Frappuccinos at Starbucks are a thing now — not officially, but as "secret menu" recipes which can be achieved simply by placing the right customized orders. It was only a matter of time, right? At some point, all of our pop culture obsessions end up in a Starbucks cup.
According to Business Insider Australia, this particular 'Bux crossover apparently got its start in New Zealand, where some clever baristas drew up an idea for a Pokeball Frappuccino on a chalkboard at the Starbucks location at which they work. Since then, others have hopped on the "Pokemon Go" train to garner popularity. In Korea, for example, the Pokeball Frappuccino boasts a disembodied cake pop and mocha drizzle, according to Eater. Meanwhile, in Southern California, says Fortune, baristas have begun making drinks that actually mimic the appearance of popular Pokemon characters — think Bulbasaur-, Eevee-, and Jigglypuff-themed Frapps. This idea is actually pretty darn brilliant; there are 151 characters in the "Pokemon Go" Pokedex alone, which gives baristas the potential to take this trend really, really far. And, hey, who wouldn't be curious enough to try a Pikachu Frappuccino?
Although they've always been popular, 2016 seems to be the Year Of The Starbucks Secret Menu Items. Earlier this year, a series of rainbow-hued drinks proved almost as ubiquitous as "Pokemon Go" players wandering the streets are now. It all started with the now-storied #PinkDrink, followed in rapid succession by the #Purple Drink, the #OrangeDrink, the #BlueDrink, and the #GreenDrink. We're still waiting to see if the #RedDrink and the #YellowDrink will become a thing and round out the rainbow.
In the meantime, it's nice to have a new set of secret menu drinks to break up the rainbow beverage monotony. If you're curious about what a Pokeball Frappuccino entails, Business Insider Australia reports the frothy concoction consists of Starbucks' classic Vanilla Bean Creme Frapp layered with a Strawberries and Creme Frapp, topped with strawberry whipped cream for good measure. The end result is a gradient-like red-and-white effect that mimics — you guessed it — the red-and-white Pokeball, with the Starbucks logo in the middle of the cup acting as that weird little button on each Pokeball. No word yet on whether or not drinking this magical elixir will help you snag more wild Pokemon in your pursuit to become an unparalleled "Pokemon Go" master — but, hey, if finding out means having a few, count me in.
Image: Warner Bros.