Torrid Released A Very Inclusive Denim Campaign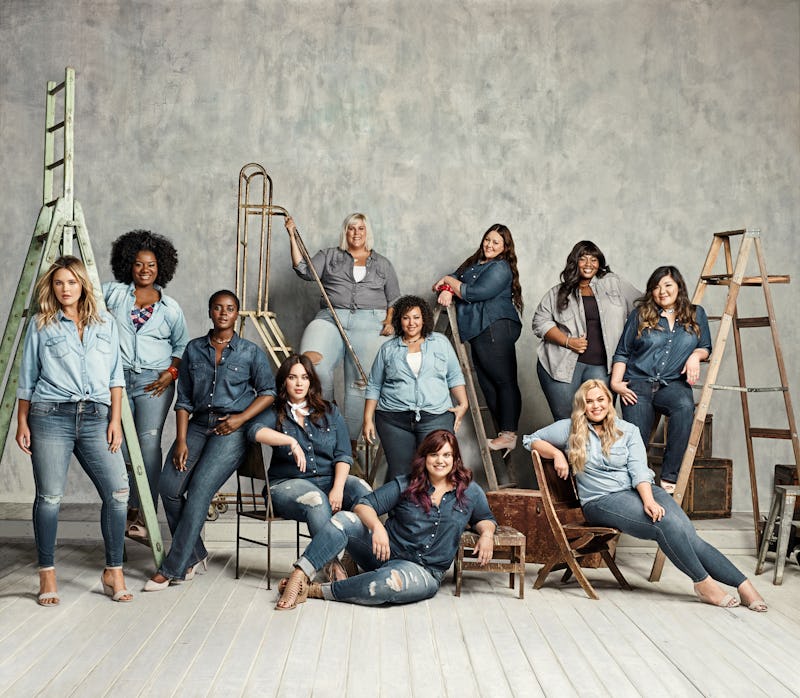 Towards the end of Jul. 2016, plus size retailer retailer Torrid launched #InMyJeans, a size inclusive denim campaign featuring 11 styles of jeans shown on 11 different women across the brand's size 10 to 30 size range. Rather than showcasing the looks on one or two models with the size 14 hourglass body type we undoubtedly see most often from plus size retailers, Torrid's campaign acknowledged that not all plus bodies look the same. Along the way, it succeeded in showing its customers of all sizes how the jeans might look on them.
Not only do the 11 women highlighted in the campaign span the collection's size 10 to 30 range, but they also include Torrid customers, employees, bloggers, models, and Orange Is The New Black actor Adrienne C. Moore. The denim encompasses six different aesthetics, from skinny jeans to flares, boot-cuts to jeggings. As a petite plus size woman who has struggled to find jeans to fit my body type, it's been encouraging to see so many options rather than a one-size-fits-all approach to plus size denim.
"In order to build the best jeans, you have to make sure it fits lots of different bodies," Torrid SVP of Product Liz Muñoz tells me via email. "As a result, when we build a new jean, we put it on girls of many sizes and many shapes to make sure it fits all of them. At Torrid, we always say, 'We swear by the fit,' and we mean it."
In addition to the print campaign, the women were each featured in a YouTube video highlighting the fit of their jean style. One of the bloggers featured was Anna O'Brien of Glitter + Lazers, who has been growing a massive Instagram following with her fun approach to fashion and body positivity. Torrid's #InMyJeans campaign was her first major brand collaboration.
"This was a huge leap for me," O'Brien shares with me via email. "I worried about maintaining my integrity and wanted to make sure it was something I believed in. The more I learned, the more I knew this was a good fit for me and that I would be proud of what we created together. Now I feel like I got to be part of something that is changing the fashion world and that makes me really happy."
Simone Mariposa, model, blogger, and creator of the popular #WeWearWhatWeWant movement was another beloved face featured in the campaign. Mariposa tells me via email that she has been a Torrid customer for over 10 years and that she was excited to represent visibly plus size women. She describes the environment on set for the day of the campaign shoot as amazing.
"There was no shame to be ourselves, especially as women who understand the plus size experience," says Mariposa. "I live for the set life. I felt like I was meant to be there. It's so awesome to have cameras around, people rooting you on, making you feel in your element. And when you add women who are there with the same mindset as you, it's even more comforting."
Because so many brands work primarily with agency-represented models, creating a diverse and inclusive campaign can be a challenge. Aside from Tess Holliday, most plus size models are under a size 18 and hourglass-shaped. This is why bloggers can bring a lot to the table. OG plus size blogger Allison Teng of Curvy Girl Chic has been blogging since 2009 and she knows firsthand how valuable blogger partnerships can be.
"It was awesome to see that a brand as big as Torrid values the conversation that bloggers bring to the table," Teng tells me via email. "I love that Torrid reached out to such a diverse group of women to show that their jeans aren't only made for model figures."
The conversation surrounding plus size campaigns being inclusive and representative has continued to come up as body positivity has become more and more mainstream. From my own experience as a designer, I know that my customers want to see items modeled on bodies that look like theirs. The idea that models (including plus size models) should represent a set beauty ideal is slowly changing and brands like Torrid are helping make that change more tangible.
"For a long time, being thinner was simply considered better," O'Brien says. "We're seeing that mentality start to shift. Advertising is a reflection of what people want to see. I think this campaign says as much about Torrid as it does about women. We're beginning to truly be comfortable and want diversity in what we're presented with. I think it was bold of Torrid, but ultimately necessary. They've set themselves up for success by being one of the first to move towards the type of advertising the modern woman wants."
Personally, I would love to see more campaigns move towards this kind of structure. But beyond having size and shape diversity in a campaign, it would be helpful to see these images on product pages as well. I hope to see Torrid make this step next. But for now, the value in a campaign for women who don't fit the mold of the white, cis, size 14, and hourglass figure that we are typically sold in plus size ads is undeniable. Mariposa echoes that sentiment later on in our conversation.
"I'm thoroughly honored to be a representation and spokeswoman for my demographic of plus size women: The large, brown-skinned, outrageous, outspoken woman who constantly gets overlooked," she says. "I'm so glad to be a voice, and to speak about the important topics, and actually be heard. I'm so grateful for this experience."
Torrid's #InMyJeans campaign is a step in the right direction for plus size advertising. From showcasing different body types, different ages, different races, and different backgrounds, this campaign highlights the simple fact that there is no wrong way to plus size. And if you want to wear jeans? You can. You can do it at any size.
Images: Courtesy Torrid