'Luke Cage' Is Stronger Than Ever In New Poster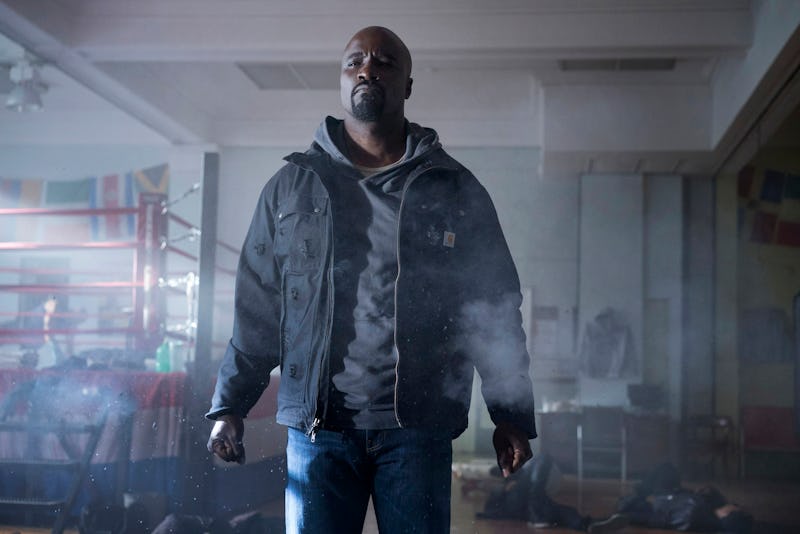 Luke Cage is heading back to Netflix, but, this time around, the Harlem-based superhero is defending his own part of the city. I couldn't be more excited about the new Luke Cage poster, because, in it, Mike Colter nails an absolutely statuesque portrayal of everything both his character and the show will stand for. The bullet holes in his shirt, and the sensitive gleam in his eye, perfectly describe how Luke's mountain-like build hides an otherwise emotionally traumatized man. Based on what we know about the new series so far, this image only encourages the high hopes already placed on the highly-anticipated series.
After the finale of Jessica Jones Season 1, Luke has been through everything from the death of his wife to being victimized by Killgrave to the fall out of his relationship with Jones. In the continuation of his story, I'm expecting to see more action, but also more of a backstory for this troubled here. The spin-off series is said to include a deeper look into how Luke Cage got his tank-like build, and how he is able to head back to his own city and clean it up months after his time with Jessica Jones. It's a story about picking yourself up no matter how many times you've been knocked down. And that only makes the poster of Cage standing strong while covered in bullet holes that haven't made a dent in his actual body all the more powerful.
What the poster leaves out is that Luke is also not alone in his city of Harlem. Joining him in Season 1 of Luke Cage is the introduction of good and bad Marvel characters alike, including Misty Knight (played by Simone Missick), Willis Stryker (played by Erik LaRay Harvey), and Cornell Strokes (played by Mahershala Ali). While not fully able to leave the events of his past behind, Luke must also face his equally as challenging future at the same time. He's going to need a whole lot more strength to deal with that.
Luckily, from this poster, he looks like he's got that in spades.
Images: Myles Aronowitz/Netflix