'Transparent' Season 3 Asks A Huge Question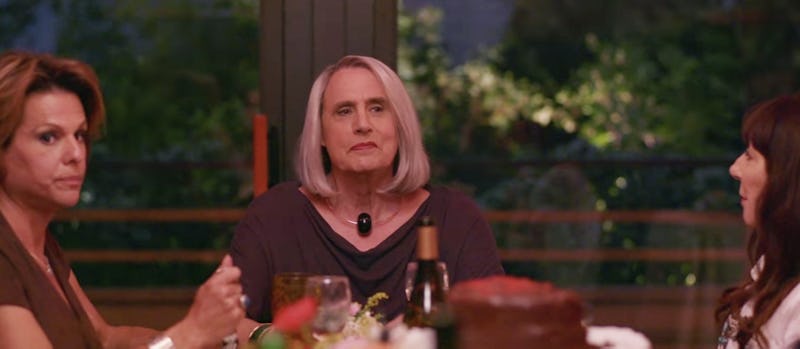 It's a wonderful thing that the Transparent Season 3 trailer can still break new ground, and initiate new conversations for the Pfefferman Family and in the real world. When Transparent first came to Amazon in February 2014, just the fact that the series was about a transgender woman coming out to her family as trans was what put the show on the map. But, on top of that, we, as an audience, also discovered that the series well-written, has a wonderful cast, and represents an inclusive, intelligent, self-aware look at the journey of the trans woman at the heart of the story and how it affects not just the individual, but everyone close to her. The series never shies away from examining this process from many different angles and perspectives, and nowhere is that more evident than in this new trailer.
In the trailer, we see Maura (played, as always, by the inimitable Jeffrey Tambor) sitting down to dinner with the rest of the Pfefferman family, and making a unique request — instead of being called "Moppa," she'd like to be called "Mom." Her declaration is answered with the clattering of silverware and stunned silence, before every head turns to look down to Judith Light, whose character is also "Mom," at end of the table. "You want them to call you 'Mom'?" she repeats, eyebrows raised. "I would love that," insists Maura, who's just blown out the candles on her birthday cake wishing for that very thing.
It's the perfect reminder that Maura's journey is far from over, and that we still have a lot to learn both from her and from the way her family embraces each new revelation. We see her contemplating plastic surgery to alter how she looks externally, juxtaposed with scenes of her coming to terms with the internal struggle about how she's been as a parent. It's palpable how much her self-awareness and confidence have increased since the series began, and how far the entire family still has to go. I love seeing that she's gotten to a point where she is asking for what she wants without apologizing. I'm interested to see how the Pfefferman family dynamic changes now that Maura is carving out a new place for herself — one on which another member of the family seems to want to retain a monopoly. And, above all, I'm excited to see her grow to become her "best self," as the trailer's voiceover says.
Just like all of us, that's what Maura is constantly searching for and trying to achieve, and I hope this season shows her family finally getting a handle on that as well. For the rest of us, I feel so lucky that we have another season of Transparent in our lives to keep this conversation going. Season 3 premieres on Amazon Sep. 23, and you better believe I'll be there to marathon watch it the second it arrives.
Image: Amazon