'Game Of Thrones' Is Coming To A City Near You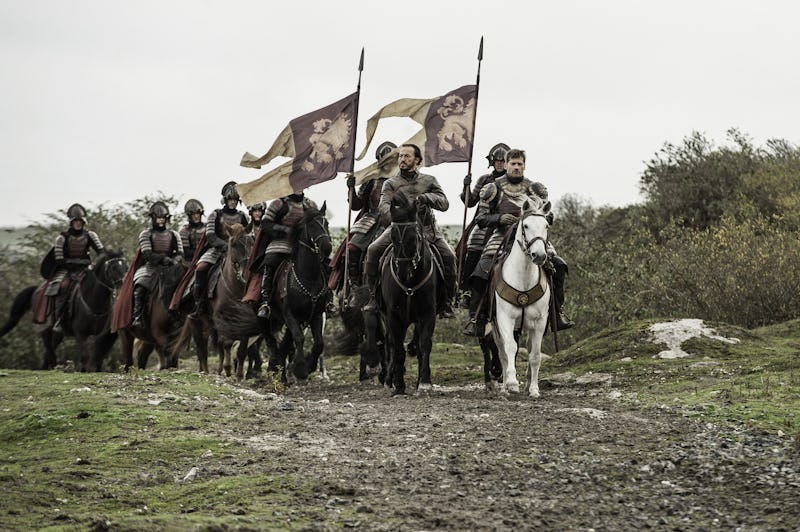 A few days ago, it was announced that there would be a live Game Of Thrones concert held in Los Angeles this Monday night, featuring the incredible music of German-Iranian composer Ramin Djawadi played by a full orchestra. But if you don't happen to live in or around the City of Angels, don't worry — it has just been revealed that this surprise event is in fact a kick-off for a nationwide tour that will travel across America in early 2017. That's right; the Game Of Thrones concert tour is coming to a city near you.
The fact that HBO has decided to highlight terrific Game Of Thrones soundtrack is encouraging, since it has never quite gotten the awards attention it deserves… considering it's one of the best soundtracks on all of television. Djawadi has only been nominated for Best Music Composition for one of the show's six seasons (Season 4) — which he lost — and, even more egregiously, he was completely snubbed in the Main Title Theme Music category back in Season 1. (The Television Academy chose to honor Any Human Heart, The Borgias, Camelot, Episodes, The Kennedys, and Mildred Pierce instead. How many of those themes can you hum off the top of your head?)
While you wait for the Game Of Thrones tour to come through your hometown sometimes next February through April, here are 11 of Djawadi's best tracks to get you totally pumped.
1. "Main Titles"
BUM bum, bum bum BUM bum, bum bum BUM bum, bum bum BUM bum, bum bum… It's undoubtedly one of the most rousing theme songs ever written by someone other than Steven Spielberg, one so catchy you can't help but sing along. You can even invent your own lyrics!
2. "Goodbye Brother"
The Stark theme debuted early in the first season, and it's one of the most haunting tracks to date — especially when you hear it reprised over the tragic death of Jon Snow in the Season 5 finale.
3. "Mother Of Dragons"
The rousing strains of Khaleesi's main theme automatically make me look to the skies to scan for approaching dragons every time. (So far, no dice.)
4. "The Throne Is Mine"
When you play the game of thrones, you win or you die. And when you listen to this track, you strap on your armor, grab your Valyrian steel sword and run into battle — or you do in your imagination, at least.
5. "I Am Hers, And She Is Mine"
Game Of Thrones isn't exactly a show known for being overly sentimental, which makes this romantic love theme between Robb Stark and Talisa such a rare and beautiful departure for the soundtrack.
6. "The Rains Of Castamere"
"And who are you, the proud lord said, that I must bow so low?' So begins the ominous unofficial Lannister Family theme song. When you hear this tune, you know someone's about to get a crossbow bolt through the heart.
7. "The Children"
One of the major themes of this show is the younger generation inheriting the damaged world left behind by their parents — which is why it's so appropriate that a track titled "The Children" repurposes the show's main title music into a rousing song of hope.
8. "Hardhome, Part 1"
If this doesn't get your blood pumping, I don't know what will. I can practically see the Night King sitting on his creepy dead horse on top of that mountain while hordes of White Walkers attack the wildling settlement. *chills*
9. "Blood Of My Blood"
Daenerys already has one epic theme, does she really need another? After listening to this track, the answer is resoundingly: YES. This soaring anthem complete with chanting chorus will make you stand up and pledge allegiance to the Breaker of Chains. (And that fast-descending string lick is one of my favorite music cues in the whole show.)
10. "The Winds Of Winter"
Viewers finally got what they'd been waiting six years for when Daenerys set sail for Westeros in the Season 6 finale. That long-awaited moment needed some appropriately epic music to match. Needless to say, Djawadi hit it out of the park.
11. "Light Of The Seven"
The first 15 minutes of the Season 6 finale, as Cersei prepared for her "trial" (aka the slaughter of her enemies), was one of the most suspenseful sequences in Game Of Thrones history — aided immensely by Djawadi's composition. "Light Of The Seven" marks the first time that piano is introduced into the show's musical landscape… and it's chillingly effective in its simplicity.
Tickets for the Game Of Thrones concert tour go on sale at livenation.com this Saturday, Aug. 13, at 10 a.m. ET.
Images: Helen Sloan/HBO