Emily & Haley Did An Uncool Thing On 'BIP'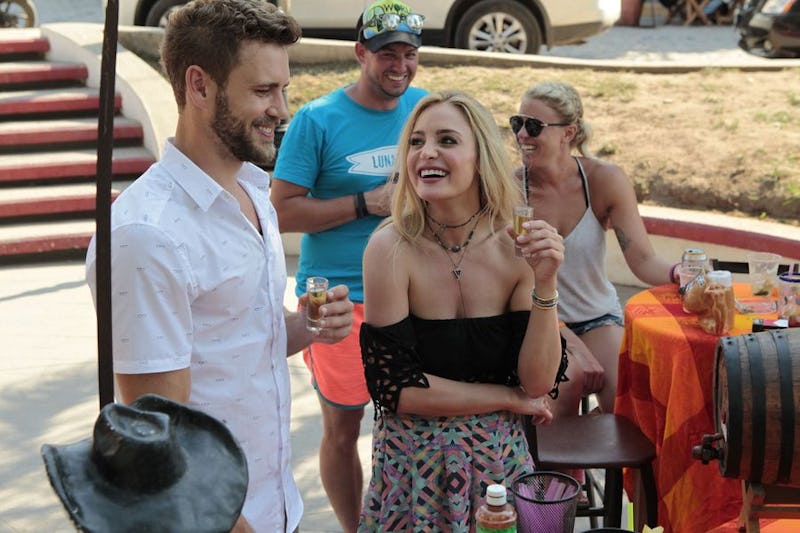 Another Monday, another glorious episode of Bachelor in Paradise, and this week, the show has generously gifted us another new cast member. Yet another lady from Ben Higgins' season of The Bachelor has landed in paradise, and she's already making some giant waves. Leah Block is officially on Bachelor in Paradise , and her former cast members aren't exactly pleased. But, when Emily and Haley made fun of Leah's lips, that was taking things way too far.
It's not exactly surprising that the other women who know Leah from their foray into falling in love with Ben aren't huge fans of her. After all, she did try to throw Lauren Bushnell under the bus when Lauren was universally well liked by the other contestants and Ben, so she didn't get off to the best start with her return. But, out of nowhere, Emily and Haley wasted no time making fun of her lip fillers. Leah might like to stir the pot every now and then, but that doesn't give them an excuse to mock the way she looks — or how anyone looks, really. There's enough drama in Paradise without the women hating each other and tearing each other down. Come on, guys.
What someone does with their body is their choice. Who is anyone else to judge that kind of choice someone else makes? Clearly, we all have our opinions, but that's not a reason to be unkind to anyone about the way they look. And if lip fillers empowered Leah to feel better about herself and more confident, that's awesome — and it's 100 percent her business.
Hopefully, this meanness is just a one time thing. Emily and Haley are so usually so sweet and so funny. I'd hate to see that change!
Image: Rick Rowell/ABC