The Powerade Campaign Is Really Inspirational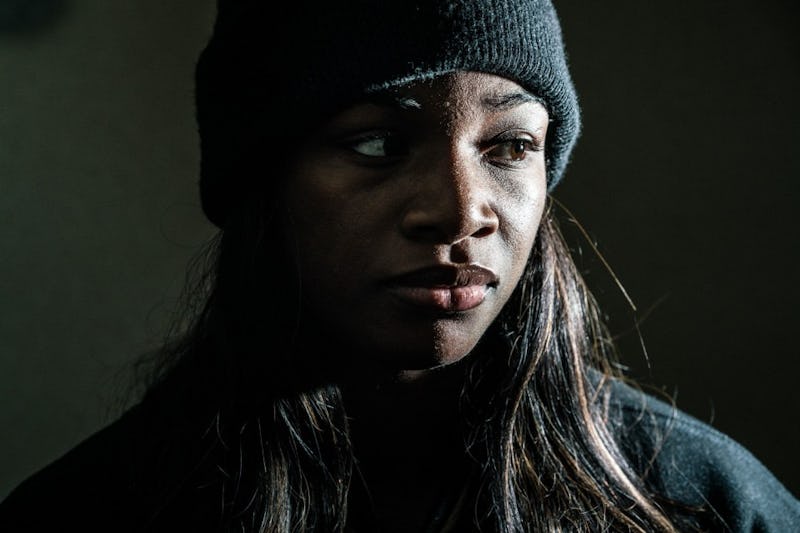 While watching the Olympics, it's hard not to be inspired by these athletes who have worked so hard to get to Rio. In just the first few days of the 2016 Olympics, Katie Ledecky beat her own world record in the 400-meter freestyle competition to take home Team USA's first gold. Michael Phelps won his first gold medal of the Rio games (his 19th) in the men's 400-meter freestyle relay to continue his reign as the most decorated Olympian with 23 medals. These are the triumphant stories anyone watching the Olympic coverage is used to seeing. These are the names that dominate the conversation when it comes to the Games, because they are the high-profile athletes that are expected to win for American. But, in Powerade's #JustAKid campaign for the 2016 Olympics, the brand is making it clear that we're all just kids from somewhere, and the road to the Olympics isn't always paved with gold.
"We don't choose where we begin," Powerade states in this campaign that started in 2015 with basketball player Derrick Rose and now features three United States athletes headed to the Olympics. "But we can decide how we finish." With this message, though, the sports drink is also saying that these stories shouldn't go ignored. The three athletes featured in these commercials are not the Phelpses or the Ledeckis. Instead, it's boxer Claressa Shields, track and field athlete Lopez Lomong, and boxer Shakur Stevenson.
Claressa Shields from Flint, Michigan gets a chance to tell her story, which includes a father who was in and out of jail when she was a kid and a mother who struggled with drugs. Growing up, the Olympics probably didn't seem like a viable option for a kid from Flint, a place that is known for its high crime rates and, most recently, its toxic waters. But, at just 17 years old, the middleweight fighter won a gold medal, making her the first American woman in history to win Olympic boxing gold.
Lomong's athletic ability is also what saved him, quite literally. At just 6 years old, the Kimotong, South Sudan, native was abducted during the Sudanese Civil War. He later escaped by running for three days straight and, after a decade in a refugee camp, he made his way to the U.S. where he was granted American citizenship. The now Portland, Oregon native has competed in the 2008 Beijing Olympics — where he was chosen to be Team USA's flag bearer— and the 2012 London games.
Shakur Stevenson, an Olympic bantamweight boxer from Newark, New Jersey, named after rapper Tupac Shakur, has also been fighting his whole life. Stevenson first learned how to box from his grandfather at 5 years old and is now undefeated in every one of his international fights, a positive sign that the kid from Brick City could come back home with a gold medal in his first Olympics. If he does win, Stevenson would become the first American man to bring home boxing gold since 2004.
It's a home that, from the looks of this commercial, could be scary for a little kid. Stevenson's flashbacks to his childhood include having to defend himself against a bully who stole his hat and walking outside his door to a burning car. But his mom was there to bandage him up and make sure he didn't get any blood on her floor. In a statement, Stevenson said, "There isn't a match that goes by where I don't pause at least once to think about where I came from and all that I've been through." He's proud to be from Newark and wants this ad to give hope to any kid with big dreams from a city like his. "I hope this commercial inspires others to believe that with hard work, where you're from and the difficulties you faced, will never be a barrier to where you can go and what you can accomplish."
I think this is the other side of the Olympics that we don't usually get to see because it's hard to watch. No one wants to think about a boxer who got into the ring because they've had to fight their whole lives or the kid from South Sudan who ran for much more powerful reasons than to get a gold medal. Powerade is bringing to everyone's attention the stories of the non-traditional athletes who had to overcome real adversity to get to Rio.
For these athletes, it's not just about the hours and hours of training each day and the years they give up to get to the Olympics. For them, It's about overcoming the struggles inherent in where they were born, their tumultuous upbringing, and all the elements they had no control over and yet still had to endure.
Like Powerade says, we're all kids from somewhere, which means Team USA is from everywhere. There isn't just one kind of Olympian. There's more than one path to the Olympics. These athletes featured in these ads may have taken the road less traveled, but it doesn't make them any less great. It's something worth remembering while watching the Rio Olympics.
Image: PoweradeUS/YouTube